Fajitas with Beef Steak
by Editorial Staff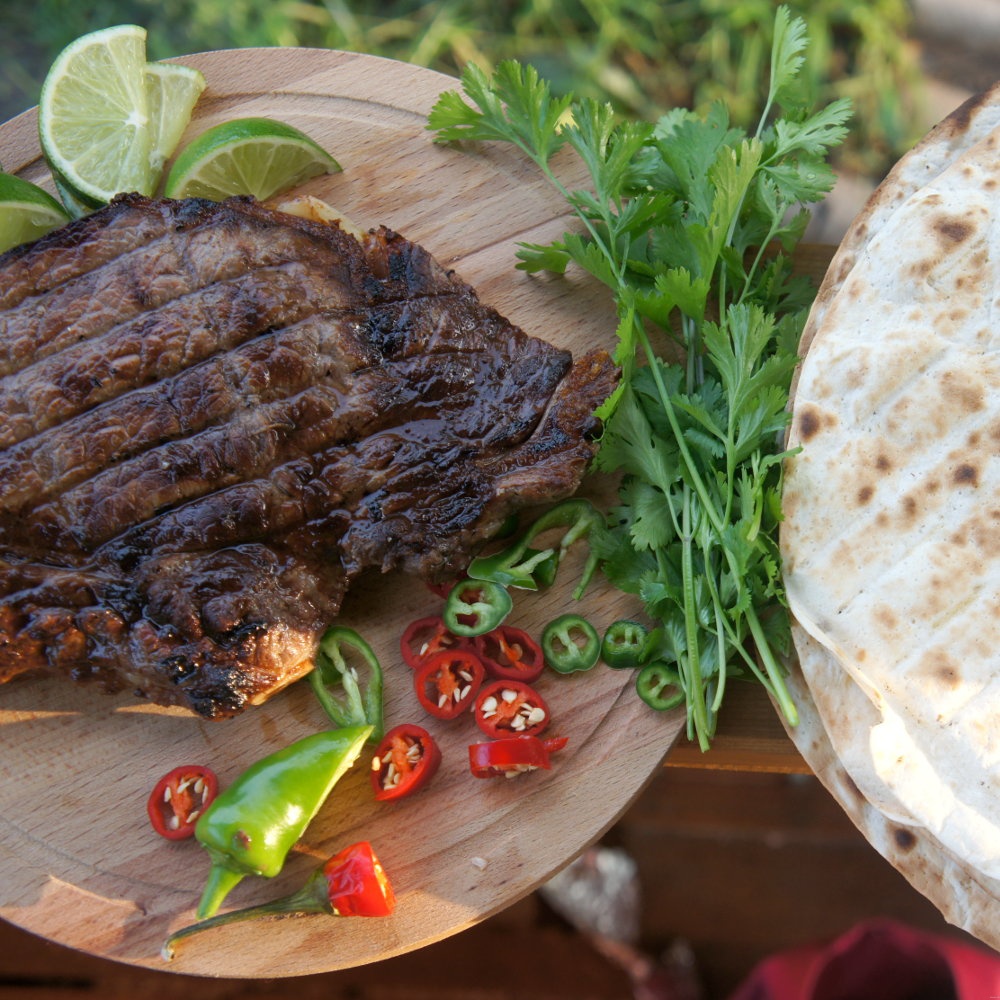 Serve greens with fajitas (this salad, tentatively called "everything from the garden", goes well), salad of coarsely chopped tomatoes, guacamole, salsa, pico de gallo, chili, lime, and other spices of your choice
Cook: 30 minutes
Servings: 4
Ingredients
1 large steak;
5-6 limes;
2 avocados;
4 tomatoes;
1 red long chili;
1 small red onion head
1 bunch of cilantro;
2 tbsp olive oil;
8 tortillas;
hot peppers (jalapenos, chili) – for serving;
salt, pepper – to taste.
Directions
Put the steak in a bowl and fill it with lime juice (in the original recipe they recommend about 200 ml, but in our conditions, you will not clear up, so in principle, it is enough to squeeze out three limes). Leave to marinate for 15 minutes, turning occasionally.
Prepare a side dish at this time. Cut the avocado into small cubes (we wrote how to choose an avocado), finely chop the chili. Place in a small bowl and season with lime juice and salt to taste. Place on the table.
Cut the tomatoes into large slices, the red onion into half rings. Chop the cilantro finely. Put it all in a bowl and season with olive oil, lime juice (optional), salt, and pepper.
Remove the steak from the marinade and dry thoroughly. Grill it in a grill pan or over an open fire until you like it. In the second case, pay attention: beef steak is not pork kebab, beef is fried not on smoldering coals, but directly on a blazing fire so that a beautiful ruddy crust forms on the outside and the meat should remain damp inside. For the same reason, the frying pan should be hot.
To better determine the roast, you can use a special thermo or your own intuition. Read more in the steak recipe. After removing the meat from the heat, wrap it in foil and leave to lie for 5-10 minutes for the meat to "rest". Toast the tortillas a little during this time, too, to keep them warm.
Cut the meat into thin slices, put it on the table along with all the other ingredients, as well as lime wedges, hot pepper – and enjoy! Let everyone take their own tortilla, wrap beef, vegetables, and sauce in it. It's delicious, trust us. 🙂
Bon Appetit!
Also Like
Comments for "Fajitas with Beef Steak"