Beef Rump Steak
by Editorial Staff
Rump steak is a piece of juicy roast beef with a crispy crust of croutons. In this dish, the choice of good meat and the ability to assess the degree of roast are very important so as not to overdry the rump steak. Before preparing the rump steak, make sure you fully understand the recipe.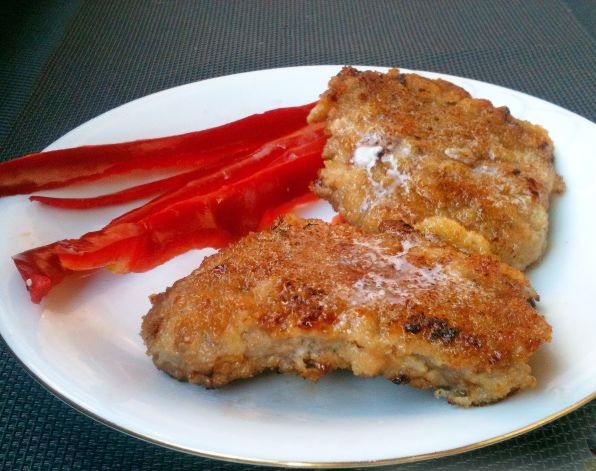 Cook: 30 mins
Serving: 4
Ingredients
Beef – 300-400 g
Eggs – 1 pc.
Milk – 1 tbsp
Ground white crackers – 0.5 cups
Butter – 1.5 tbsp
Salt – 0.5 teaspoon
Ground black pepper – 0.25 teaspoon
Beef rump steaks can also be made from minced meat. They are prepared in the same way as beef steak, but before frying, they must be moistened with an egg and rolled in breadcrumbs.
Directions
Prepare food.

Beat the egg with milk.
Cut a piece of beef thick edge, tenderloin or hind leg across the grain into pieces 1.5-2 cm thick

Beat off with a wooden mallet, cut oval rump steaks.
Sprinkle with salt and pepper.

Moisten with beaten egg with a little milk.

Roll in breadcrumbs.

Melt butter in a frying pan (1 tablespoon). Turn on the oven. Fry the rumzschetks in a pan with a small amount of heated fat over medium heat until golden brown. First 4 minutes on one side, and then another 4 minutes on the other side.

Then the rump steaks can be placed in the oven for another 10 minutes for toasting.

When serving, pour melted butter over the rump steak or place a lump of butter on each hot rump steak.
Rump steak is served with a side dish of boiled or stewed potatoes, carrots, beans. Serve green salad separately.
Enjoy your meal!
Also Like
Comments for "Beef Rump Steak"