Beef Steak with Mushrooms
by Editorial Staff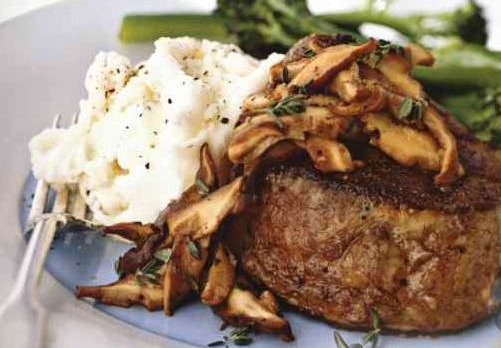 Beef steak served with mushroom sauce.
Servings: 4
Ingredients
Beef steak 2.5 cm thick – 4 pcs. (120 g each)
Shiitake mushrooms, caps (cut into strips) – 4 cups (about 240 g)
Fresh thyme (chopped) – 0.5 teaspoon.
Salt – 0.5 teaspoon.
Ground black pepper – 0.25 teaspoon.
Vegetable oil
Butter – 2 teaspoon
Garlic (chopped) – 2 cloves
Balsamic vinegar – 2 tbsp
Water – 1 tbsp
Soy sauce – 1 teaspoon
Fresh thyme – 1 tbsp
Directions
Sprinkle 1/4 teaspoon salt and 1/8 teaspoon pepper on all sides of the steaks. Heat a large skillet over medium to high heat, brush with oil. Place the steaks in a preheated skillet and fry for 3 minutes on each side. Transfer the meat to a plate.
Heat the same skillet over medium to high heat, add butter, melt for about 15 seconds. Place the garlic in a skillet and cook, stirring occasionally, for about 30 seconds.
Add mushrooms, 1/2 teaspoon thyme, 1/4 teaspoon salt, and 1/8 teaspoon ground black pepper to the pan. Cook, stirring occasionally, for about 3 minutes, until mushrooms are soft.
Add vinegar to the pan, 1 tablespoon. a spoonful of water and soy sauce, cook for about 1 minute until the liquid is almost completely evaporated.
Serve the steaks on portioned plates and top with the mushroom sauté. Sprinkle thyme over the dish. Garnish with mashed potatoes and broccoli (optional).
Also Like
Comments for "Beef Steak with Mushrooms"