Grilled Beef Steak
by Editorial Staff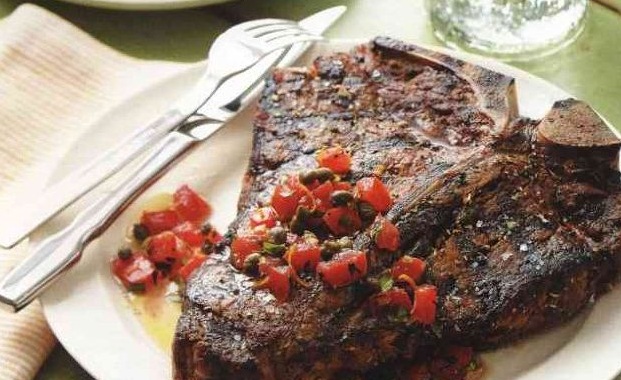 Grilled steak served with vegetable sauce.
Servings: 4
Ingredients
Beef steak on a T-shaped bone 3 cm thick (tenderloin from a thin edge) – 4 pcs. (250 g each)
Salt to taste
Ground black pepper – to taste
Ground coriander – to taste
Vegetable oil for grill lubrication
For the sauce:
Extra virgin olive oil – 0.25 cups
Large tomato – 1 pc.
Lemon juice – 1 tbsp
Fresh basil (chopped) – 1 tbsp
Capers – 1 tbsp
Zest of one lemon
Salt to taste
Ground black pepper – to taste
Directions
Turn on the grill to preheat to medium-high temperature. Grease the wire rack with vegetable oil.
Prepare the sauce. Squeeze the juice out of the tomatoes and cut the pulp into small cubes. Place the tomato in a bowl, add olive oil, lemon juice, basil, capers, zest, salt, and pepper to taste, stir well. Set aside.
Wash the steaks, dry with a paper towel. Sprinkle the meat on all sides with salt, pepper, and coriander.
Place the steaks on the grill rack, fry with the lid closed for about 1-2 minutes, turn them 90 degrees, and cook for another 1-2 minutes. Flip the steaks over and cook for a couple of minutes or until cooked as desired.
Transfer the steaks to a board, cover with foil, let rest for minutes 5. Serve the steaks with sauce.
Also Like
Comments for "Grilled Beef Steak"