Fajitas with Beef and Chimichurri Sauce
by Editorial Staff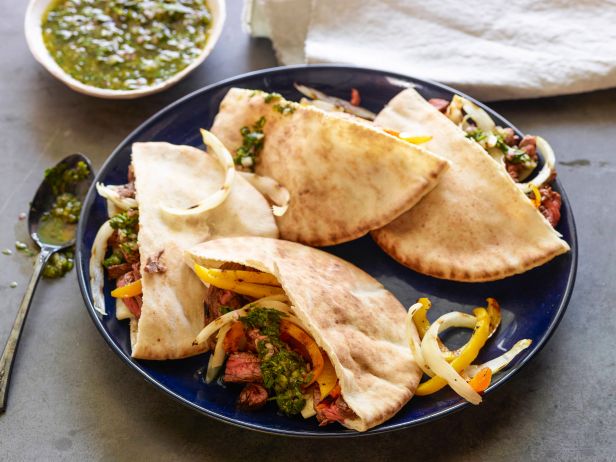 This recipe introduces a Mexican twist on pita bread. Here, the combination of fajitas and chimichurri sauce gives the dish a national flavor.
Cook: 35 minutes
Servings: 4
Ingredients
Marinade:
900 gr. beef tenderloin flank
1/4 Art. lime juice (from about 2 limes)
1/2 tablespoon. soy sauce
2 tbsp honey
1/2 -1 teaspoon ground cumin
1/4 – 1/2 teaspoon cayenne pepper
4 cloves of garlic, crushed
Salt and crushed black pepper
Chimichurri:
4 hollow pits cut in half
4-8 slices of hawarty cheese
1 jalapeno pepper, chopped (remove seeds and jumpers first)
1 small head of red onion, chopped
1 sliced
0.5 cm from root to top Spanish onion head
2 tablespoon. chopped fresh cilantro with tender stems
2 tablespoon. chopped fresh parsley with tender stems
1 sliced
0.5 cm orange pepper
1 sliced
0.5 cm yellow pepper
1/2 – 1 tablespoon. olive oil
2 tbsp red wine vinegar
Juice of 2 limes
2 small cloves of garlic, grated
1 tbsp canola oil
Directions
For the marinade: In a bowl, combine the soy sauce, lime juice, honey, cumin, cayenne pepper, garlic, some salt, and pepper. Place the meat in a large freezer bag or baking dish and top with the marinade. Marinate the beef for at least 30 minutes. or up to 3 hours in the refrigerator.
For the chimichurri: Combine olive oil, red wine vinegar, lime juice, garlic, jalapenos, and red onion. Add cilantro and parsley and stir. Let stand until used.
Preheat the grill pan to high heat.
Remove the meat from the marinade, let the excess drain so that the meat is not too wet. Fry the meat for 4-6 minutes. on each side until lightly cooked.
Transfer the meat to a cutting board, cover with foil and rest for 5-10 minutes. Cut the cooled meat into thin strips across the grain.
Meanwhile, in a bowl, toss the colored peppers and onions with oil, salt, and ground pepper.
Place on grill and sauté until vegetables are nicely streaked, 6-8 minutes.
To assemble a pita sandwich: Cut pita bread in half. Place a slice of hawarty cheese in the pita, add the beef slices, some pepper, and onion, and pour the chimichurri sauce.
Also Like
Comments for "Fajitas with Beef and Chimichurri Sauce"