Beef Steak with Chimichurri Sauce and Tomato Salad
by Editorial Staff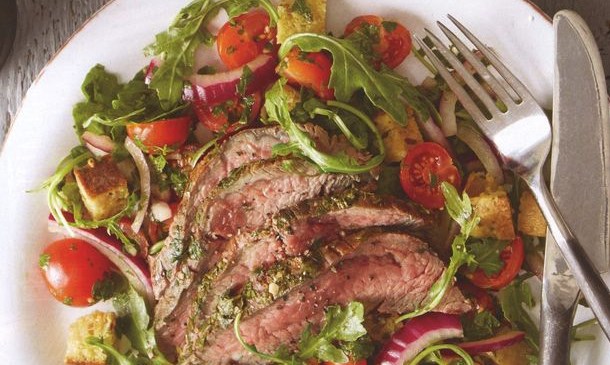 Beef steak is cooked with green chimichurri sauce, garlic, and lime juice. Vegetable salad is dressed with the same sauce. Steak with tomato salad is a very harmonious and tasty dish because meat always goes well with vegetables. And chimichurri perfectly refreshes this dish.
Servings: 4
Ingredients
Beef (steak) – 500 g
Salt to taste
Ground black pepper – to taste
For the chimichurri sauce:
Parsley (leaves) – 60 g
Cilantro (leaves) – 60 g
Lime juice – 70 ml
Red wine vinegar – 2 tbsp
Olive oil – 1 tbsp
Garlic – 3 cloves
Water – 1 teaspoon
Ground red pepper – 1 pinch
Salt – 1 pinch
For the salad:
Whole grain bread – 200 g
Cherry tomatoes – 24 pcs.
Rucola – 150 g
Red onion – 1 pc.
Directions
Make diamond cuts on the surface of the steak on both sides. Salt and pepper the meat on each side. Leave on for 5 minutes.
Place all the ingredients of the chimichurri sauce in a blender bowl and blend until smooth.
Grill the steak for 8-13 minutes, turning once in the middle of cooking.
Grease the steak with 2 tbsp of chimichurri sauce on all sides. Fry the steak in the sauce for another 5 minutes.
Cut the bread into cubes, fry in a dry frying pan until crisp. Cut the cherry tomatoes in half. Peel the onion and cut it into thin feathers.
In a deep bowl combine tomatoes, onions, arugula, and crackers. Add chimichurri sauce and mix the salad well.
Cut the steak into slices and serve on a salad pad.
Also Like
Comments for "Beef Steak with Chimichurri Sauce and Tomato Salad"