Beef Steak with Spicy Pesto Sauce
by Editorial Staff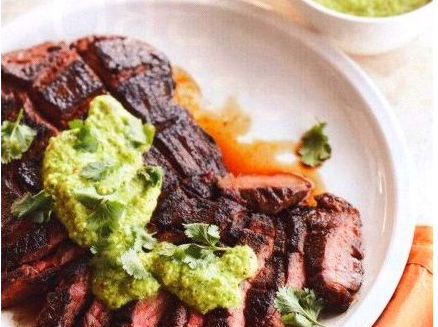 I prefer to serve pesto sauce with fried meat, but not ordinary, but with peppercorn.
Cook: 30 mins
Servings: 8
Ingredients
Beef tenderloin – 600 g
Chili powder – 2 teaspoon
Salt – 1 teaspoon
Powdered espresso coffee – 1 teaspoon
Garlic powder – 1/2 teaspoon
Dried oregano – 1/2 teaspoon
Ground black pepper – 1/2 teaspoon.
Vegetable oil
Serving cilantro leaves (optional)
For hot pesto sauce:
Chili pepper (seeded and finely chopped) – 2 pcs.
Fresh cilantro leaves – 1/2 cup
Hard cheese (finely grated) – 1/4 cup
Pine nuts – 2 tbsp
Garlic – 2 cloves
Black peppercorns (crumbled) – 1/4 teaspoon.
Olive oil – 1/3 cup
Salt to taste
Ground black pepper to taste
Directions
Prepare hot pesto sauce. Put chili peppers, cilantro leaves, cheese, pine nuts, garlic, and black pepper in the bowl of a kitchen processor. Pulse until a homogeneous mass is formed, then gradually, in a thin stream, add olive oil, mix. Season with salt and pepper to taste. Cover the sauce and refrigerate until serving.
Remove excess fat from the meat. Make transverse cuts on the surface of the steak at a distance of 2.5 cm from each other. In a small bowl, combine chili powder, salt, espresso, garlic powder, oregano, and black pepper. Grate meat from all sides with this mixture.
Grease a large skillet with vegetable oil and heat over medium-high heat until high. Put the steak on a preheated pan, reduce the heat to medium and cook the meat for about 12-14 minutes, turning once (the temperature on the meat thermo should rise to 70-80 degrees).
Cut the steak into thin slices and serve with the pesto sauce. Sprinkle with cilantro leaves if desired.
Also Like
Comments for "Beef Steak with Spicy Pesto Sauce"