Beef Steak with Mustard Sauce
by Editorial Staff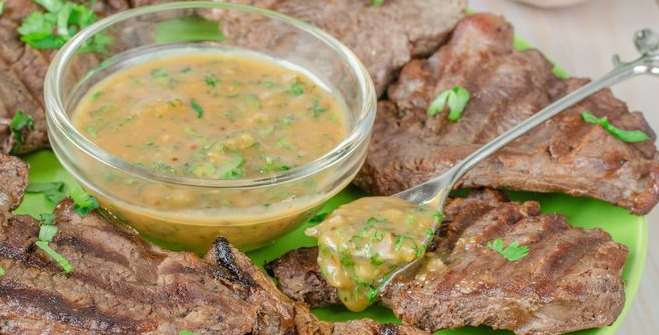 If you are lucky enough to become the owner of a good piece of beef, then you certainly need to make a minimum effort to prepare it. It is in this steak recipe that everything is easy and simple. Although no, it is also very tasty! And mustard sauce will perfectly complement this dish. Try to cook.
Cook: 30 minutes
Servings: 3
Ingredients
Beef tenderloin – 450 g
Salt to taste
Ground black pepper – to taste
Vegetable oil – 2-3 tbsp
For the sauce:
Mustard – 1-2 teaspoon
Cream 20-33% – 2 tbsp
Soy sauce – 2 tbsp
Garlic – 2 cloves
Cilantro – 5-6 branches
Sugar – 1 tbsp
Vegetable oil – 1 tbsp
Directions
Cut the meat across the fibers into steaks 1-1.5 cm thick. Grease each piece of beef generously with vegetable oil, rub with salt and pepper.

In a dry, highly heated grill pan, fry the steaks for 4-5 minutes on each side. Turn off the heat and let the steaks "rest" for 3-4 minutes in a frying pan.

At this time, prepare the mustard sauce. Peel the garlic and chop finely. Chop the cilantro finely. Fry the garlic in a pan with heated vegetable oil (1 tablespoon) for 30 seconds. Add sugar, soy sauce, and mustard to the garlic in the pan. Stir and simmer for 1 minute.
Turn off the heat and pour in the cream, stirring occasionally. Add half of the chopped cilantro to the mustard sauce. Decorate the steaks with the other half of the greens when serving.
Also Like
Comments for "Beef Steak with Mustard Sauce"