Beef Steak with Mustard Oil
by Editorial Staff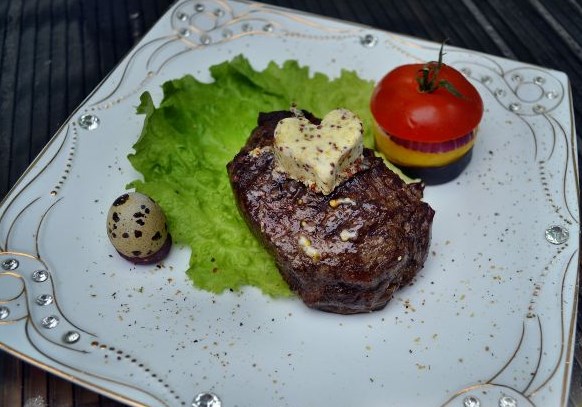 Beef steak with mustard oil
Cook: 30 mins
Servings: 1
Ingredients
Beef tenderloin – 300 g
Butter – 10 g
Granular mustard – 1 teaspoon
Coarse sea salt – to taste
Black pepper (freshly ground) – to taste
Vegetable oil – to taste
How to cook beef steak:
Directions
Peel the beef tenderloin from the films. Cut a piece weighing about 300 g from a thick edge. Place it vertically and squeeze it with your palms against the meat fibers, giving the steak an oval shape.
Salt the meat with coarse sea salt, pepper with freshly ground pepper, grease with plenty of oil.
And we transfer the steak to a well-heated dry grill pan. Fry the beef steak over a slightly above medium heat, three minutes on each side.
Next, we transfer the steak to the oven, preheated to 210 degrees. The temperature of the oven and the time to cook the steak depends on your personal taste. I don't like a fully cooked steak, so I cook it to medium, which is about 8-10 minutes.
After the oven, cover the steak with foil and let it "reach" for 3-5 minutes. While the steak was cooking, I mixed butter with grainy mustard, put it in a heart-shaped mold, and placed it in the freezer. You can, of course, but this butter on the steak in any form, because its mission is to spread on the steak and make it incredibly tasty.
Beef steak can be served. Enjoy your meal!
Also Like
Comments for "Beef Steak with Mustard Oil"