Fajitas with Steak, Chimichurri Sauce and Hoppy Peppers
by Editorial Staff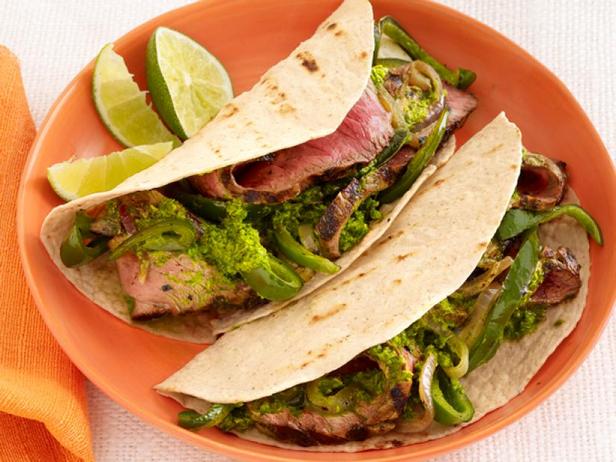 Prepare a Mexican fajitas dish with a delicious, juicy thin-sliced ​​beef steak and moderately brewed poblano peppers and onions over wheat tortillas, and top with a refreshing Latin American chimichurri sauce. Chimichurri is made from a large number of herbs and is used here not only for serving dishes but also as a marinade for meat, impregnating it with its aromas. Grill marinated beef until tender to keep the meat tender and slice it thinly against the grain so you can bite off and enjoy the fajitas comfortably.
Cook: 1 hour 55 minutes
Servings: 4
Ingredients
1 bunch fresh parsley
1 bunch fresh cilantro
1-2 cloves of garlic
1 large red onion, cut into half rings
2 tbsp red wine vinegar
3 tbsp lemon juice
0.5 tablespoon. + 1 tbsp olive oil
450 gr. scapula beef or top round steak
3 poblano peppers, seeded and cut into strips
1/4 Art. lager
8 wheat tortillas with a diameter of 20 cm.
Lime wedges, for serving (optional)
Directions
In a food processor, combine parsley and cilantro (leaves and stems), garlic, half chopped onion, 1 tbsp salt, 1 teaspoon. black pepper, vinegar, 2 tbsp lemon juice and 0.5 tablespoon. olive oil; chop until a thick and smooth chimichurri sauce is obtained. Chop both sides of the steak with a fork several times; put it in a sealed ziplock plastic bag and add half of the sauce. Seal the bag and remember to cover the steak with the sauce. Refrigerate for at least 1 hour. Cover the remaining sauce and set aside.
Preheat your grill to moderate heat. Remove the steak from the bag (no sauce needed), season with salt and pepper, and grill until tender, about 6 minutes on each side. Leave the meat to rest, covering it loosely with foil, for about 10 minutes.
Meanwhile, in a large skillet over medium-high heat, heat the remaining 1 tbsp olive oil. Add the poblano peppers and the remaining half of the chopped onion and season with salt and pepper. Saute until vegetables begin to soften and brown around the edges, about 8 minutes. Pour in beer, cover, and simmer until pepper is tender about 5 minutes.
Heat the grilled tortillas. Thinly slice the steak diagonally, place on the flatbreads along with the pepper and onion. Dilute the delayed chimichurri sauce with the remaining 1 tbsp lemon juice; drizzle with fajitas sauce. Serve with lime wedges if desired.
Also Like
Comments for "Fajitas with Steak, Chimichurri Sauce and Hoppy Peppers"