Fajitas with Shrimps
by Editorial Staff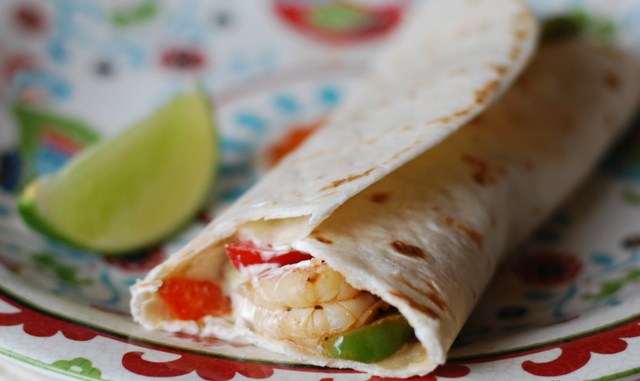 For me, fajitas are not only summer food. Although it is very pleasant to cook them in summer, roasting vegetables, meat, poultry, or shrimp on the grill. But at other times of the year, fajitas will cheer you up. Our favorites in the family are chicken fajitas and shrimp fajitas. In late autumn and winter, we cook in a pan. It seems to me that different kinds of fajitas and burritos are good not only for a family dinner but simply created for the company. It is always a consistent success. I have already repeated and verified this many times. Judge for yourself: it's simple, it's interesting, it's exciting and, finally, very tasty. A very good meal to while away the evening with friends and family.
Servings: 6
Ingredients
500 g shrimp (raw or boiled)
1 large onion, chopped thinly
1 red bell pepper, chopped thinly
1 green bell pepper, chopped thinly
1 cup grated cheese (a mixture of cheddar, provolone, mozzarella, suluguni, and similar)
(optional)
1 cup sour cream (optional)
1 cup salsa (salsa) – recipe below
1 cup guacamole (optional) – recipe below
Medium tortillas (pita bread can be used)
Vegetable oil for frying
Salt
Ground black pepper
Lime wedges
For the marinade:
2 tablespoon olive oil (or other vegetable)
1 tablespoon lime juice (can be substituted for lemon juice or vinegar, if necessary)
2 cloves of garlic, finely chopped or minced
1 teaspoon chili powder (chili powder)
½ teaspoon ground coriander
½ teaspoon cumin
½ teaspoon hot pepper flakes or ¼ teaspoon. cayenne pepper
½ teaspoon ground black pepper
Salt
Directions
Mix ingredients for the marinade. Marinate the shrimps. Marinating time: minimum 20-30 minutes. You can marinate in advance, for example, a day in advance. In this case, keep the shrimp in the refrigerator.
Heat olive oil in a frying pan, add vegetables, and fry over medium-high heat for about 5-6 minutes. The vegetables will be fried on the outside, and a little crispy on the inside. Season with salt and pepper.
Important !: Do not overcook the shrimp, otherwise they will lose their flavor and become tough.
For raw shrimp: add shrimp and cook for about 3-4 minutes, until shrimp turns pink. For boiled shrimp: add shrimp about 7 minutes after starting to grill vegetables. Warm-up for 2 minutes.
Put vegetables with shrimps, salsa, guacamole, sour cream, and cheese (optional) in separate bowls. Heat the tortillas directly on the stove, frying pan, or in the microwave. Put vegetables with shrimps on a flat cake. Squeeze out a wedge of lime. Put everything else that you use on top. Fold the cake in half.
Also Like
Comments for "Fajitas with Shrimps"