Original Fajitas
by Editorial Staff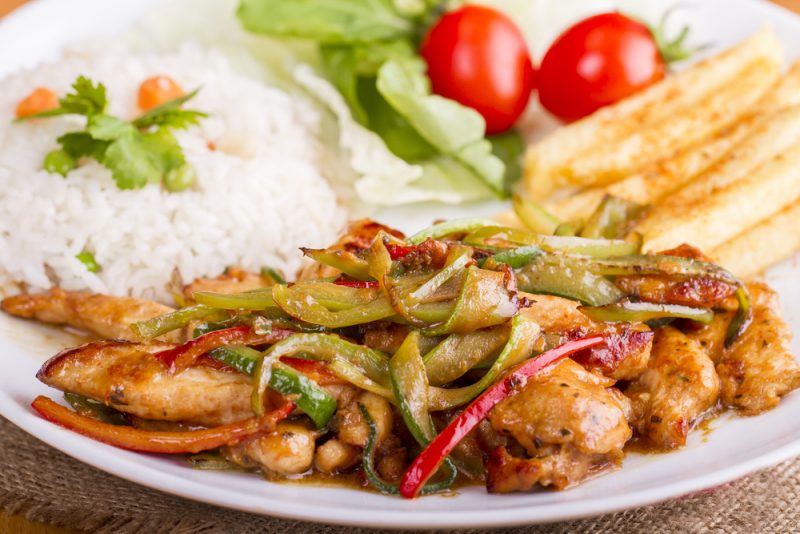 Fajitas are also cooked in famous restaurants. The chefs marinate the meat. This is necessary in order to make it delicate in taste and to shorten the cooking time. For serving, you should purchase thick sour cream. This recipe combines several types of meat. Therefore, meat-eaters will appreciate it. This dish is ideal for a large company when everyone can choose what they like best.
Ingredients
Pork tenderloin – 200 grams;
Chicken fillet – 200 grams;
Beef tenderloin – 200 grams;
Soy sauce – 2 incomplete tablespoons;
Orange – 1 piece;
Lime – 2 pieces;
Mexican spices – to taste;
Olive oil – 2 tablespoons
Garlic – 3 cloves;
Bulgarian pepper – 2 medium (green and red);
Red onion – 1 small head;
Avocado – 1 piece;
Cilantro – 1 small bunch;
Tomato – 1 medium;
Tequila – 50 ml;
Thick sour cream – 100 grams as a sauce;
Tortilla -10 pieces;
Olives – 5-7 pieces;
Salt, sugar to taste.
Directions
Fajitas begin with marinating the meat. To do this, wash the pieces and make 3-5 large cuts on them. Sprinkle the pieces with salt, sugar, squeeze out the juice of one lime and an orange, add soy sauce;
Sprinkle the pieces with spices and rub them gently into the meat, then pour the pieces with olive oil, add the garlic passed through a press;
We cover the container with meat with cling film and send it to the refrigerator.
While we are preparing the rest of the ingredients, the meat will have time to marinate;
Cut the pepper into strips, the onion into strips;
Grill the meat until tender. Beef can be fried until half cooked;
Warm-up a thick-walled pan in the oven. It should be hot;
Put onions, bell peppers in a dry hot frying pan;
After the meat is fried, cut it into strips and put it on vegetables;
Cut the tomato into slices and put it on the side of the pan, put the olives in the other part;
Placed on the table cakes, guacamole sauce, sour cream, a frying pan with fajitas;
Pour tequila into the pan and light it.
Also Like
Comments for "Original Fajitas"