Classic Meat Lasagna Recipe
by Editorial Staff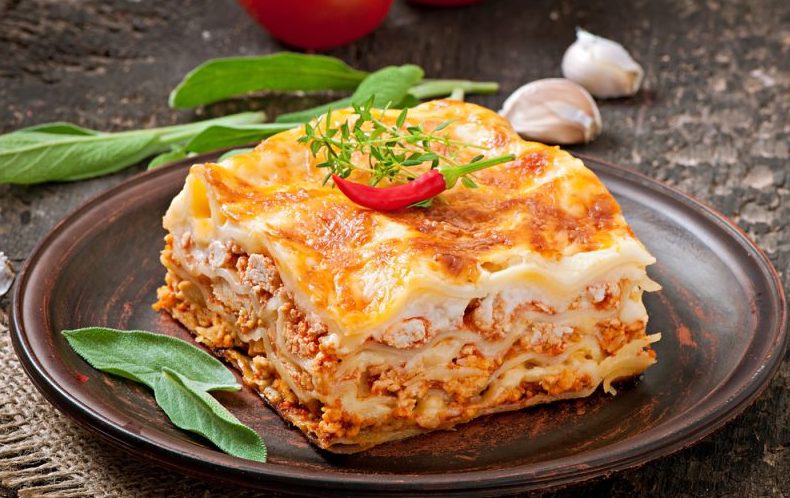 Lasagna is a simple gourmet recipe reminiscent of the process of assembling a designer. Products are used only as ingredients. In the classic interpretation, these are pasta sheets and two types of sauce. The prefix in the recipe "al Forno" means cooking technology – baking in the oven.
Ingredients
For the meat sauce:
300 grams of ground beef,
150 grams of good ham, cut into strips,
1 large carrot
2 stalks of fresh celery,
4 table. tablespoons of quality olive oil,
1 glass of dry red wine,
1 medium onion
1 clove of garlic
salt pepper,
1 can of tomatoes in their own juice (400 grams)
For the Bechamel sauce:
0.5 liters of milk
2 table. tablespoons of flour
a pinch of nutmeg
1 bay leaf
100 grams of plums. oils,
salt
dry layers of dough for lasagna – the amount is determined by the baking container, but not more than 250 grams.
Parmesan cheese
Instructions
Heat olive oil in a heavy-bottomed saucepan. Put finely chopped onion and garlic in it. Simmer over low heat until the onion is transparent. Raise heat and add carrots and celery, cut into strips. Simmer for 5 minutes.
Add minced meat and ham, bring the mass until light brown. Pour in the wine, simmer for 10 minutes.
Last of all, pour the tomatoes, finely chopped together with the juice from the jar, into the sauce. Simmer all together over low heat for about 40 minutes.
Melt the butter in a skillet, add flour into it and lightly fry until a nutty smell. Boil milk separately, adds a pinch of nutmeg and bay leaf into it. Let it brew for 10 minutes.
Remove the bay leaf and pour the milk mixture into a heated frying pan with flour in a thin stream, stirring occasionally. As soon as the total mixture begins to boil, it is ready. Salt lightly.
Pour some meat sauce into a baking dish. Cover with dry lasagne sheets. Pour another layer of meat sauce, top with béchamel, sprinkle with parmesan, again lasagna sheets, and so on until the meat sauce ends. Top it with sheets of lasagna, drizzle with the last batch of bechamel and sprinkle with parmesan.
Place in an oven heated to 180 degrees Celsius and bake for about 40 minutes until a brownish crust forms. Bon appetite.
Also Like
Comments for "Classic Meat Lasagna Recipe"