Easy Meat Lasagna Recipe
by Editorial Staff
Minced meat lasagna is the most popular variation. In my opinion, this is well deserved, since the dish is really very tasty. I used dry plates, which you do not need to cook beforehand, but be sure to pay attention to the instructions.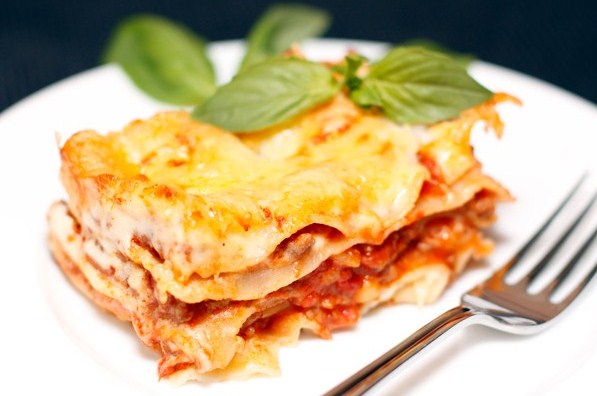 Ingredients
Onions 1 piece
Parsley to taste
Dried basil to taste
Salt to taste
Ground black pepper to taste
Wheat flour 40 g
Milk 400 ml
Mixed minced meat 500 g
Tomato puree 500 g
Butter 50 g
Ready dry sheets of lasagna 13 pieces
Parmesan cheese 50 g
Instructions
For minced meat, fry the finely chopped onion until golden brown.
Add the minced meat to the onion and fry everything together until the meat is tender. Season with salt and pepper to taste.
When the minced meat is ready, you need to add chopped peeled tomatoes to it (this can be ready-made tomato puree (trade wind), chopped tomatoes in their own juice, or fresh tomatoes, peeled and finely chopped). Continue to cook on low heat for 10 minutes to evaporate excess liquid. Add greens at the end.
For the béchamel sauce, melt the butter in a thick-walled bowl over low heat, add flour, stir.
Add cold milk to the hot mixture, stirring thoroughly. For this time, it is better to remove the dishes from the heat. When all the milk has been added, place the sauce on low heat and simmer, stirring constantly, for about 5 minutes. When the sauce thickens, remove from heat.
Grease a rectangular ovenproof dish with butter or line the bottom with paper or baking film, lay the lasagna sheets to the size of the bottom spread a little béchamel on top. Place the minced meat on top of the bechamel, cover with a sheet of lasagna, and alternate layers until you reach the desired height. The last layer should be bechamel.
Sprinkle the lasagna with grated Parmesan cheese and bake for 30 minutes in an oven preheated to 190 degrees. To prevent the Parmesan from burning, you can cover the tin with foil for the first 20 minutes. Remove the finished lasagne from the oven, let stand for 10 minutes, and then cut into portions.
Also Like
Comments for "Easy Meat Lasagna Recipe"