Easy Chicken Lasagna Recipe
by Editorial Staff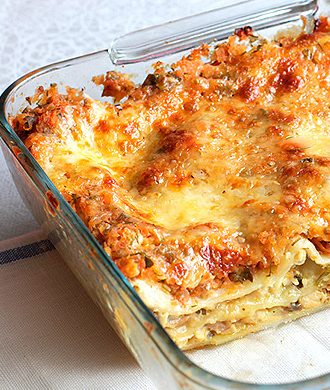 Aromatic, tasty, and very satisfying homemade lasagne with chicken fillet and mushrooms. If you use ready-made sheets for lasagna, then preparing this dish will not be difficult at all.
Ingredients
Lasagne sheets 6-10 pcs
Chicken fillet 500 gr
Tomatoes 250 gr
Mushrooms 200 gr
Cheese 200 gr
Onion 150 gr
Greens
Bechamel sauce:
Milk 500 ml
Flour 50 gr
Butter 50 gr
Salt, pepper to taste.
Directions:
Finely chop the onion. Finely chop the champignons. Cut the raw chicken fillet into very small pieces.
Fry onions in a little vegetable oil. Add a chicken fillet to the onion, fry for 5-7 minutes, stirring occasionally. Then add mushrooms, salt, and pepper. Stir well and fry for another 15 minutes over medium heat.
Next, you need to prepare the Bechamel sauce. Melt butter in a saucepan, add flour, and mix well. Lightly fry this mass.
Then gradually pour milk into the pan, mix thoroughly so that there are no lumps. Season the sauce with salt and pepper. Cook "Bechamel" stirring constantly until it thickens. The consistency of the finished sauce will be similar to liquid sour cream.
Wash the tomatoes, cut them into wedges, and place them in a blender bowl. Chop the tomatoes until smooth, add the chopped greens, and mix again.
Grease a baking dish with oil. Line the bottom layer with lasagne sheets. I do not boil the sheets. Smear the sheets a little with sauce. Place half of the toasted filling. Pour the filling with Béchamel sauce.
Put the lasagna sheets on top again and brush evenly with the sauce. Put the remaining filling on the sheets and pour over the remaining sauce. Layout the last layer of lasagna sheets. Put chopped tomatoes with herbs on the sheets.
Sprinkle generously with grated cheese.
Cover the form with foil and bake in the oven for 20 minutes at 180 degrees. Then remove the foil and bake the lasagne for another 10 minutes.
Also Like
Comments for "Easy Chicken Lasagna Recipe"