Chicken Spinach Lasagna Recipe
by Editorial Staff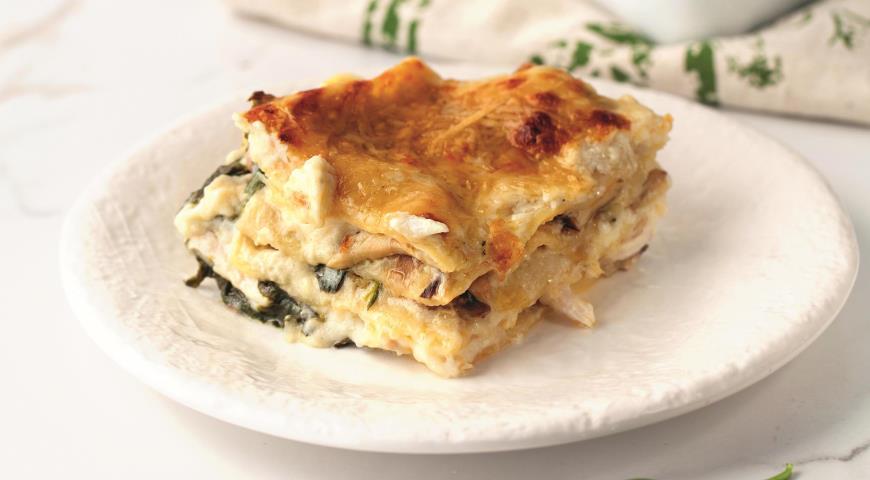 There is nothing better for a Sunday dinner with the family than a large lasagna platter. Prepare more of it at once, suddenly someone looks at the aroma coming from the apartment. And if the lasagna remains, you can take it with you to work.
Ingredients
250 g mushrooms
2 medium onions
4 cloves of garlic
olive oil
1/2 teaspoon dried chili flakes
200 g spinach
400 g boiled chicken
400 g lasagna sheets
250 g mozzarella
2/3 cup grated Parmesan
salt freshly ground black pepper
For the béchamel sauce:
100 g butter
1/4 cup flour
1 liter of milk
1/4 teaspoon grated nutmeg
salt and freshly ground black pepper
Instructions
For the sauce, melt the butter in a saucepan and add the flour. Stir constantly with a whisk, pour in some cold milk, and stir to avoid lumps. Add the remaining milk in several steps and bring the sauce to a boil. Cook for 5 minutes, until thick. Season with salt, pepper, and nutmeg. Cool the sauce a little by covering the surface with cling film.
Cut the mushrooms into thin slices. Peel the onion and garlic and chop finely. Heat a large skillet with olive oil over medium heat. Add onion and garlic and cook for 5 minutes, until tender. Add the mushrooms and continue to fry for another 5-7 minutes. Sprinkle with chili flakes, add a little salt.
Allow all the liquid in the pan to evaporate, then add the spinach and cook for 3-4 minutes until the leaves wither.
Cut the chicken into small pieces and add to the vegetables, stir.
Grease a rectangular shape with butter and spread 2-3 tbsp béchamel sauce, then arrange 2-3 sheets of lasagna so that the bottom of the mold is completely covered. Brush the pasta with the béchamel sauce and add a few tablespoons of the filling, then the mozzarella slices, sprinkle with a handful of Parmesan. Repeat layers. Continue until you run out of ingredients. Cover the last layer of pasta with a thin layer of bechamel, sprinkle well with Parmesan.
Cover the lasagne dish with foil and bake for 25 minutes. in an oven preheated to 175 ° C. Remove the foil and continue cooking for another 15–20 minutes, until golden brown.
Remove from oven and let stand for 5-10 minutes. Cut into portions and serve.
Also Like
Comments for "Chicken Spinach Lasagna Recipe"