Lasagna Recipe With Spinach
by Editorial Staff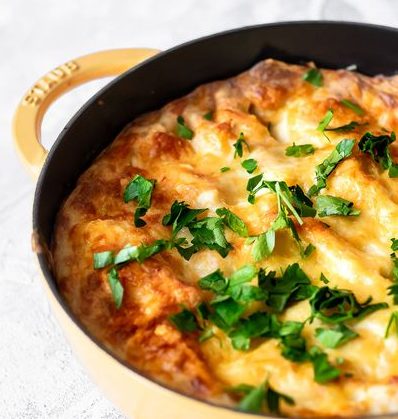 Delicate and delicious lasagna with spinach, cottage cheese, and feta cheese will undoubtedly decorate your menu. If you don't like spinach at home, then after this lasagna everything can change.
Ingredients
Lasagne sheets – 10 pcs.
Frozen spinach – 400 g
Cottage cheese – 290 g
Feta cheese – 180 g
Gouda cheese – 60 g
Milk – 250 ml
Bulb onions – 1 pc.
Butter – 60 g + for greasing the mold
Egg – 1 pc.
Flour – 3 teaspoon
Garlic – 3 cloves
Salt – 1/4 teaspoon
Fresh parsley (for serving) – 4 sprigs
Instructions
Prepare all the ingredients, grate the gouda cheese on a medium grater, peel the onion and cut it into small cubes.

Preheat a frying pan and melt 30 g of butter. Add chopped onions to the butter. Simmer the onions for 5-7 minutes until soft.
Add spinach to the onion, add a little salt. Squeeze the garlic through a press and add to the spinach and onion. We will simmer the spinach and onions until all the liquid from the spinach has evaporated (15-20 minutes).
Let's prepare the bechamel sauce. Put 30 g of butter and flour into a saucepan with a thick bottom. Melt the butter and mix it with flour until smooth. Add milk to the butter and flour mixture. Put on the fire and cook, stirring occasionally, until thickened (about 5 minutes). When the mixture is sufficiently boiled, remove the sauce from heat.
Prepare 90 g of cottage cheese and 40 g of feta cheese. Break the cottage cheese and feta into pieces with your hands, mix together and add to the still warm béchamel sauce.
Also, add grated hard cheese to the sauce (leave a little to sprinkle with lasagna on top) and an egg. Mix well to melt the cheese.
Chop the remaining cottage cheese (200 g) and feta (140 g) by hand. Add feta and cottage cheese to the spinach. Mix well. The filling for the lasagna is ready.
Lubricate the heat-resistant form with a small amount of butter. Let's start collecting lasagne.
Cover the bottom of the mold with dry sheets of lasagna dough. If necessary, we will break the sheets so that they fit into the mold. On top of the dough sheets, we put 3 tbsp of filling. Put 3 tablespoon on top of the filling. Spread the soaked dough sheets on top so that they cover the filling with the sauce.
Repeat the procedure with the distribution of the filling and sauce, cover them with the remaining sheets of dough. Put the remaining sauce on top. Sprinkle with the left grated cheese on top, spreading it over the entire form. Send the lasagne to the oven and bake at 180 degrees for 40 minutes, until golden brown.

Sprinkle the cooked lasagne with spinach, cottage cheese, and feta with finely chopped parsley. Cut the lasagne into pieces and serve.
Enjoy your meal!
Also Like
Comments for "Lasagna Recipe With Spinach"