Lasagna Recipe Spinach
by Editorial Staff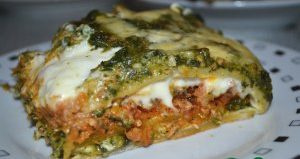 An Italian classic that never goes out of style! As the result, I really love this meat-based dish, but sometimes (most often in summer) I want to make it more interesting, and I cook lasagna with spinach.
Ingredients
Spinach 600 gr
Garlic 2 cloves
Lasagne sheets 256 gr
Hard cheese 300 gr
Eggs 4 pcs.
Cream 500 ml
Tomatoes 1 pc.
Salt to taste
Bow 1 pc.
Vegetable oil 50 ml
Minced meat 500 gr
Directions:
Rub the cheese on a coarse grater, cut the onion into half rings, and the tomatoes into cubes.
Fry the onion until completely transparent, add minced meat and tomatoes, salt. Then add chopped garlic and fry until the liquid completely evaporates from the pan.
Thoroughly rinse the spinach and chop. Then fry the spinach until tender.
We prepare lasagna sheets according to the instructions on the package.
Pour some cream into the prepared baking dish, put lasagna sheets over the entire surface of the bottom. Then put half of the total amount of spinach, minced meat, sprinkle with cheese, and cover it all with lasagna sheets. Put spinach and minced meat again and sprinkle with cheese.
Cover with lasagna sheets and sprinkle with cheese on top. Then fill the entire structure with the rest of the cream.
Lasagna with spinach is baked for about 45 minutes at a temperature of 180 -200 degrees.
Also Like
Comments for "Lasagna Recipe Spinach"