Crockpot Lasagna Recipe
by Editorial Staff
Fancy lasagna but don't feel like standing by the stove all day? There is a solution – use a multicooker! The Miracle Oven will help you prepare delicious real lasagna quickly and easily.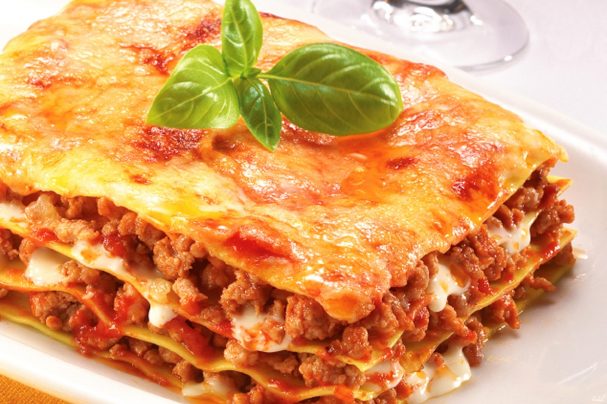 Ingredients
Minced meat – 500 grams
Onions – 80 grams
Vegetable oil – 4 Tbsp. spoons
Tomato paste – 10 Tbsp. spoons
Sheets for lasagna – 200 grams
Cheese – 150 grams (It is best to use parmesan or other types of hard cheese. 70 grams of cheese will go to the béchamel sauce, everything else – in the lasagna itself.)
Dried parsley – 1 Tbsp. spoon
Salt, spices – – To taste
Flour – 2 Tbsp. spoons
Butter – 2 Tbsp. spoons
Milk – 1.5 Cups
Eggs – 2 Pieces
Instructions
Prepare the meat sauce for the filling.
Pour vegetable oil into a hot frying pan and put finely chopped onions. When the onion turns transparent, add the minced meat and sauté for 10 minutes. Then add tomato paste (add some water if needed), salt, parsley, and spices. Remove the prepared sauce from the stove.
Prepare the béchamel sauce.
Melt the butter in a small saucepan. Add flour (stir constantly!). After a couple of minutes, pour in the milk. Cook for 3-4 minutes, stirring occasionally. When the sauce has thickened, remove the saucepan from the stove and add the eggs, salt, pepper, and half of the grated cheese (it is very important to stir the sauce constantly during cooking so that no lumps appear).
Cooking lasagne.
Pour some béchamel sauce into the multicooker bowl. Lay a couple of lasagna sheets on top (you can break them into pieces). Put some of the minced meat, some béchamel and grated cheese on the sheets. Continue to lay out the layers in the same order. Top with grated cheese lasagne. Select the "Bake" mode and set the timer for 1 hour. Open the lid at the end of the program.
Lasagna is ready! Bon Appetit!
Also Like
Comments for "Crockpot Lasagna Recipe"