Lasagna Noodle Recipe
by Editorial Staff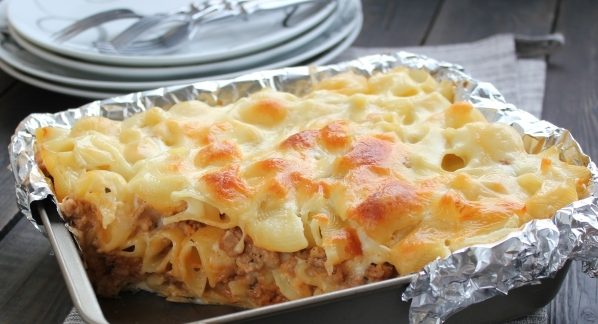 Noodle lasagna is a type of lazy lasagna. Use minced meat and tomato sauce to your liking, hard pasta, and preferably hard cheese, but semi-hard will also work. Aromatic herbs – basil, oregano, or dry Italian herbs mixture.
Ingredients
Noodle – 250-300 g
Minced meat – 500 g
Onions – 1-2 heads
Tomato sauce – 3-4 tablespoons
Milk – 500 ml.
Butter – 2-2.5 tablespoon
Flour – 1.5-2 tablespoon.
Cheese – about 100 g
Olive oil – for frying
Dry aromatic herbs – to taste
Salt to taste
Instructions
To prepare the meat sauce, first, fry the chopped onions in olive oil and season with salt. Add minced meat, spices, and simmer. Stir the minced meat with tomato sauce and simmer until tender.
For the white sauce, fry the flour in butter first. Then add milk in portions while stirring, add salt and ground nutmeg to taste. Cook until simmering and thickening, stirring occasionally.
Grate the cheese or cut it into thin slices. Cook noodle until cooked or half-cooked.
Prepare the mold with oil. I padded the sides of the mold with foil because I expected the lasagna to be slightly higher than the mold …
Gather the lasagna in layers, like this: noodle, cheese, white sauce, minced meat, noodle, cheese, white sauce, minced meat, noodle, white sauce, cheese. Bake the lasagne in the oven at 180-200 degrees for about an hour.
The minced noodle lasagna is ready. Bon Appetit!
Also Like
Comments for "Lasagna Noodle Recipe"