Greek Lasagna Recipe
by Editorial Staff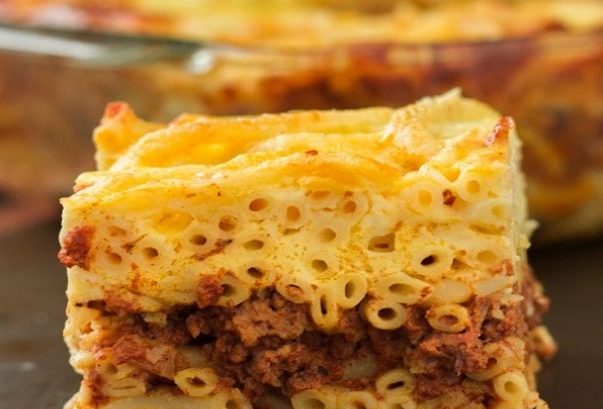 Dishes from different cuisines of the world often overlap and have different incarnations of similar options. One of such striking examples is a recipe for preparing Greek lasagna, based on the Italian original.
Ingredients
Onion – 1 Piece
Garlic – 2-3 Cloves
Beef – 500 Grams
Tomatoes – 2-3 Pieces
Cheese – 200 Grams
Egg – 2 Pieces
Butter – 50 Grams
Flour – 3 tbsp
Milk – 300 Milliliters
Salt – 1 Pinch
Pepper – 1 Pinch
Nutmeg – 1 Pinch
Spices – To taste
Pasta – 300 Grams
Instructions
Wash the beef pulp, dry, and grind into minced meat. You can use a blender or meat grinder. Send finely chopped onion and garlic to a frying pan with a little oil. Fry a little and add minced meat.

Wash the tomatoes, pour over with boiling water and peel them off. Cut into small cubes or grind with a blender. Add to the fried minced meat. Simmer the meat sauce over medium heat until tender, adding salt and spices to taste.
Beat eggs a little with a fork. Add slightly cooled minced meat and half of the grated cheese to them. If desired, the Greek lasagna recipe can also be supplemented with vegetables to taste.
Make the Bechamel sauce in a small saucepan. To do this, melt the butter and fry a little with flour. Pour in milk and simmer the sauce over low heat. Season with salt and pepper to taste, add a pinch of nutmeg and grated cheese.
Boil the pasta in salted water with a little olive oil. Throw in a colander and sprinkle with cheese. Put half of the pasta on the bottom of an ovenproof dish. Spread the minced meat on top, pressing it tightly with a spoon.
Place the other half of the pasta on top. Top with Bechamel sauce and sprinkle with the remaining grated cheese. Send the form to the preheated oven for at least 45 minutes.
Homemade Greek lasagna is done when the top is browned and a delicious crust appears. The dish must be allowed to cool slightly, and then it can be served.
Also Like
Comments for "Greek Lasagna Recipe"