Italian Lasagna Recipe
by Editorial Staff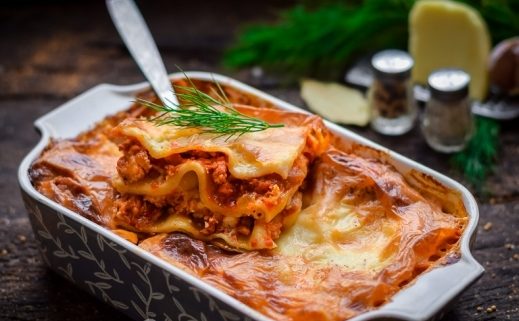 Italian lasagna is an extraordinary dish, no one can resist it, in any case, I have never met such people. All my guests are always delighted, and even those who are on a diet ask for supplements. We take ready-made lasagna sheets as a basis, you can use pork, beef as mince, or take a mixed version. Be sure to make tomato sauce, tomatoes, vegetables, cheese, and, of course, bechamel sauce. You can serve lasagne to the table with fresh vegetables and herbs.
Ingredients
Lasagne sheets – 8 pcs.
Suluguni or Russian cheese – 250 g
Minced meat – 0.5 kg
Tomato sauce – 300 ml
Bulb onions – 2 pcs.
Celery – 2 stalks
Sweet pepper – 1 pc.
Tomatoes – 2-3 pcs.
Garlic – 1-2 cloves
Vegetable oil – 50 ml
Milk – 800 ml
Butter – 100 g
Flour – 80 g
Nutmeg – slice
Salt, pepper – to taste
Instructions
Prepare vegetables in advance, peel everything, wash and dry. Peel the bell peppers and cut them into small pieces. Also, chop the celery stalks.
Cut carrots and onions into small cubes. Heat some vegetable oil in a frying pan, put all vegetables in a frying pan, fry for 3-5 minutes.
Add prepared minced meat to fried vegetables. Rinse and dry the tomatoes, cut into small cubes, add to the pan. Fry minced meat and vegetables for 10 minutes.
Pour the tomato sauce into the pan. Simmer everything for about 12 minutes, season the sauce with salt and pepper, squeeze out a clove of garlic.
Prepare bechamel. In a saucepan or saucepan, melt the butter, add wheat flour, stir. Pour milk into a saucepan in a thin stream. Boil the sauce until thick. Pour a pinch of pepper into the sauce, a little ground nutmeg.
Prepare a dish for lasagna, pour a little sauce on the bottom, put a few sheets of lasagna. Pre-read on the packaging whether it is worth boiling the sheets in advance.
Spread part of the bolognese on top of the sheets – prepared minced meat in tomato sauce.
Shake the meat layer with cheese chips. Cover everything with 2 sheets of lasagna, cover with some of the béchamel sauce.
Repeat layers 3-4 times. Transfer the form to the oven for 45-50 minutes, set the temperature to 180 degrees. Serve ready-made Italian lasagna to the table.
Enjoy your meal!
Also Like
Comments for "Italian Lasagna Recipe"