Eggplant Lasagna Recipe
by Editorial Staff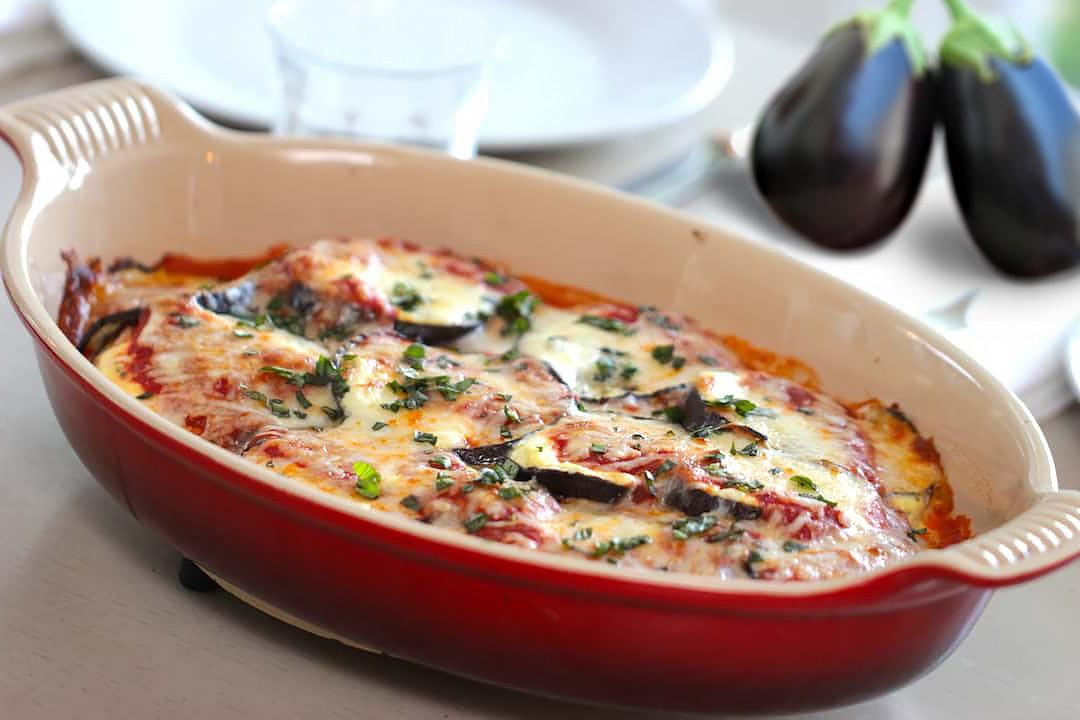 Surprise family and friends with a new kind of lasagna! Eggplant lasagna is a great alternative to classic lasagne. Eggplants go well with spicy tomato sauce and tender cheese mass. For baking, if possible, it is better to use a heat-resistant ceramic dish, it conducts heat better and more evenly, the dishes in it are excellent!
Servings: 10
Cooking: 1 hour 45 minutes
Ingredients
Eggplant 600 gr
Olive oil 60 ml
Tomato sauce 900 gr
Garlic 10 gr
Ricotta 475 gr
Chicken eggs 2 PC.
Mozzarella 360 gr
Basil 100 gr
Salt to taste
Ground red pepper to taste
Ground black pepper to taste
Instructions
Wash eggplants under running water, dry them with paper towels, cut them into slices about 0.5 cm thick, if a little thicker – nothing, the main thing is that the pieces are about the same thickness.
Line the baking sheet with parchment, place the eggplants on it in one layer, pour with olive oil, salt, and pepper to taste. We send the baking sheet to the oven preheated to 190 degrees. We bake the eggplants from the side for 7 minutes, then take the baking sheet out of the oven, turn each slice to the other side, return to the oven, continue to bake the same amount of time. All the eggplants on the baking sheet are unlikely to fit, so we carry out this procedure in two or three stages, depending on the size of the baking sheet itself.
Pour the tomato sauce into a heavy-bottomed saucepan. Peel the garlic, pass through a press, add to the sauce. And now salt, enrich with black and red ground pepper to taste, mix. We send the pan to the fire, cook the sauce for about 10 minutes until it decreases slightly in volume.
Put the ricotta cheese in a small bowl, break the chicken eggs here, mix. Wash the basil, dry it, chop 1/2 part finely, put it in the resulting mass, mix it again.
Grease the bottom of the baking dish with a small amount of tomato sauce, then spread a layer of eggplants, on top of the – 2/3 of the cheese mass. Rub the mozzarella on a fine grater and sprinkle on top. Then put the eggplants, ricotta cheese mass again, sprinkle with mozzarella. We put the third layer according to the same principle, and pour the surface with tomato sauce and sprinkle with the remaining mozzarella.
We send the form to the oven preheated to 190 degrees, bake for 15-20 minutes. Chop the remaining basil with a knife and sprinkle with lasagna. Serve with fresh vegetable salad.

Bon Appetit!
Also Like
Comments for "Eggplant Lasagna Recipe"