Vegan Eggplant Lasagna Recipe
by Editorial Staff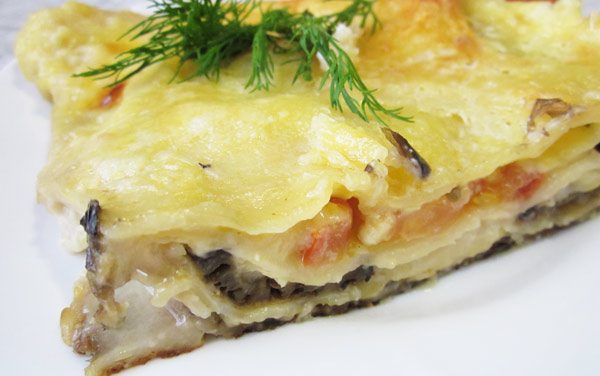 Lasagna is a traditional Italian dish. I suggest making a hearty vegetarian eggplant lasagna. Eggplants are perfect here with béchamel sauce and cheese! By the way, the taste of eggplant in vegetarian lasagne is reminiscent of mushrooms.
Ingredients
1 pack of lasagna plates (12 plates).
350 g of eggplants.
150 g tomatoes (2 pieces).
350 g of grated cheese (hard varieties).
Bechamel sauce for lasagne:
Milk – 900 ml.
Butter – 120 g.
Flour – 90 g.
Nutmeg – 1 teaspoon
Salt – 2 teaspoons.
Directions:
Free the eggplants from the stalks and cut them into thin strips. If you wish, you can pre-peel the eggplants. Put the strips on a wire rack and put them in the oven at 180 degrees C for 10 minutes. In lasagna, dried eggplants will be soaked in sauce and will taste like mushrooms.

Now we are preparing the béchamel sauce. Put butter in a frying pan, turn on a small fire and melt the butter. Put flour in melted butter, mix. Increase the heat to medium. Fry for a minute, stirring constantly. Pour the butter-flour mixture with milk, mix. With constant stirring, prepare the béchamel sauce until thickened. Add salt and nutmeg, stir the sauce and turn off the heat.
Pour a little béchamel sauce into the lasagne dish and distribute it over the mold. Spread three lasagna plates parallel to each other. Layout strips of oven-dried eggplant on top. Fill everything with béchamel sauce.
Fall asleep with ¼ part of the grated cheese. Put the lasagna on top of the cheese again.
Now eggplants again. Bechamel and cheese again. In the next row, the procedure is the same, only together with the eggplants we spread the tomatoes, still cut into circles.

Pour the last row of lasagna plates with the béchamel sauce and, if desired, add additional cream, sprinkle with cheese on top. Put the vegetarian lasagna with eggplant and bake in the oven for 30 minutes at 180 degrees C, then 10 minutes at 210 degrees C, until the cheese crust is browned.
Also Like
Comments for "Vegan Eggplant Lasagna Recipe"