Best Vegan Lasagna Recipe Ever
by Editorial Staff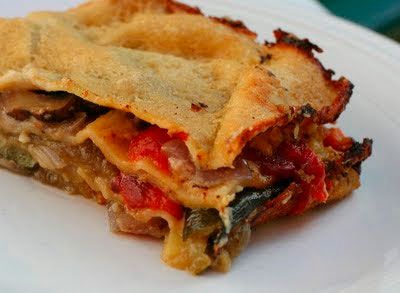 A vegan version of lasagna with seasonal vegetables: eggplant, zucchini, bell peppers, red onions, garlic, and mushrooms. Baked vegetables are laid out in layers between lasagna sheets, which are soaked with lean béchamel sauce. If you are not categorical about dairy products, then replace the Béchamel with cheese and garlic Alfredo sauce.
Ingredients
1/2 pack of lasagna sheets (about 200-250 g)
1 baked eggplant
1 head of garlic (whole baked with eggplant) 1 red onion (baked with other vegetables)
250 gr. champignons or other mushrooms, except oyster mushrooms
1 zucchini, thinly sliced
2 sweet peppers of different colors.
For the vegan bechamel:
50 ml. vegetable milk (soy, oat, sesame, etc.)
2 tbsp olive oil
1.5 tbsp whole-grain flour or wheat
a pinch of nutmeg
salt to taste.
Instructions
First, let's prepare the vegetables. Put 1 head of garlic (unpeeled), 1 purple onion (peeled), and 1 eggplant on a greased baking sheet. Pierce the eggplant with a fork in 2-3 places so that it bakes evenly (about 20 minutes) or cut lengthwise. Baking time for garlic and onions – 15 minutes.

While the vegetables are in the oven, you can make the béchamel sauce. Pour vegetable oil into the pan, when it is hot, add flour. Mix flour and butter very quickly. Loose lumps are formed from flour. Pour some of the milk in a thin stream: pour in with one hand, break the lumps with a fork or a whisk with the other, to make a homogeneous paste. Slowly pour in all the milk, constantly stirring the bechamel. Once the sauce has thickened, you can add ground nutmeg, salt, and black pepper to taste.
When the vegetables are baked and then cooled, peel them, including eggplant. Carefully cut the eggplant into rings, the soft vegetable may wrinkle a little, turning into a puree, but this is not scary. On the contrary, it will give a delicate creamy taste. Cut fresh peppers into thin half-rings or strips.
Fry the mushrooms for 4-5 minutes. in vegetable oil.
Boil the lasagna sheets for 3-4 minutes. in slightly salted water or follow package directions.
Place the lasagna sheet in a baking dish. Top with a layer of baked vegetables + a layer of fried mushrooms, then fresh zucchini cut into thin slices and bell peppers. Pour the béchamel sauce over. Repeat layers again: lasagna leaf + baked vegetables + mushrooms + fresh vegetables + lean sauce.

Place the vegan lasagne in a preheated oven and bake for 20-30 minutes. until complete readiness.
Also Like
Comments for "Best Vegan Lasagna Recipe Ever"