Vegan Lasagna Recipe
by Editorial Staff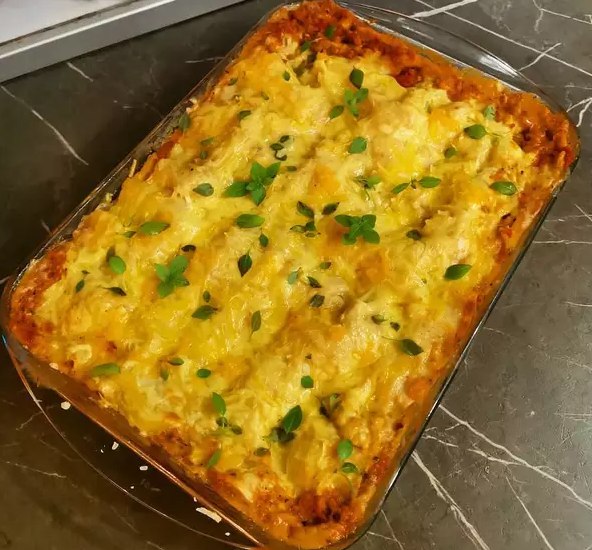 After this recipe, you will understand how varied plant food is and gives a flight of imagination. Don't be afraid to take risks!
Ingredients
Lasagna leaves 250 gr
Dry minced soy 250 gr
Chopped tomatoes 500 gr
Onion 1 pc
Carrot 1 pc
Celery stalk 40 gr
Vegan cheese 250 gr
Garlic 4 cloves
Italian herbs 3 tablespoon
Smoked paprika, paprika, sugar 1 teaspoon
Bechamel sauce
Oat milk 3.2% 900 ml
Flour 75 g
Melted coconut butter with a creamy aroma 75 gr
Nutmeg, salt
Instructions
We prepare vegetables: finely chop onions, celery, three carrots on a fine grater, pass the garlic through a garlic press.
Fry onions, celery, and carrots in olive oil until golden brown, then add garlic.
Pour minced soy with boiling water with salt for 5 minutes, then put it on a sieve and squeeze.
Add minced meat to the frying of vegetables and fry until the minced meat is golden. Then add paprika, smoked paprika, and Italian herbs, salt, and sugar, and fry for another minute to reveal the aroma of spices.
Add chopped tomatoes, then add half a glass of water and simmer the sauce for 15 minutes over low heat.
Let's do the béchamel sauce. Put butter and sifted flour in a heavy-bottomed frying pan.
Fry over high heat, stirring constantly until lumps, and gradually pour in the milk. Mix again until smooth and pour in another portion. This will help avoid lumps in the sauce. I poured in 200 ml portions approximately.
When all the milk has been added, cook the sauce for another 3 minutes, add nutmeg and salt to taste, turn it off and pour into a bowl, because if you leave it in a hot pan, it will thicken even more, but we don't need that. Keep in mind that the sauce will thicken a little more as it cools.
Three cheese on a coarse grater and begin to collect lasagne. To prevent the lasagna from falling apart, layout one layer horizontally, the other layer vertically, so the structure will be strong.
Pour 1 ladle of béchamel sauce on the bottom of the mold, spread it with a brush, spread the lasagna sheets a little overlapping each other, leaving no gaps to close them, break the lasagna sheets, and put them in the mold.
Then spread the bolognese sauce on top, sprinkle with cheese, cover with lasagna sheets, and repeat all steps. Spread the top layer with lasagna sheets, pour over the sauce, and sprinkle with cheese.
Bake in the oven, covered with foil for 20 minutes at 180 ° C and 10 minutes without foil. Garnish with fresh basil when serving. Bon Appetit!
Also Like
Comments for "Vegan Lasagna Recipe"