Vegan Lasagna Recipe
by Editorial Staff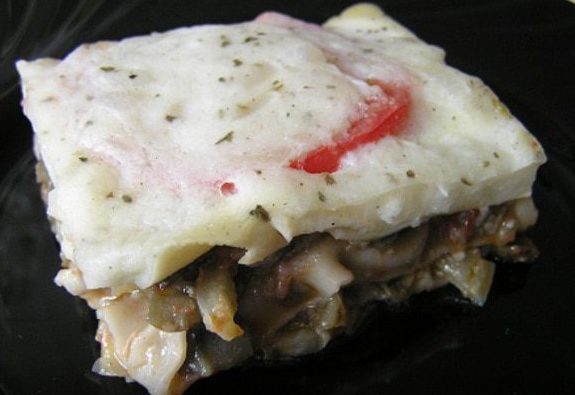 Eggplant lasagna stuffed with Jecheb sandalwood, framed with lasagna sheets and lean sauce a la Béchamel.
Ingredients
Filling:
1 large onion
4 eggplants (650g)
2 tomatoes (300g)
1 sweet yellow pepper
vegetable oil
salt
pepper
2-3 cloves of garlic
Bechamel sauce (lean):
1 onion
vegetable oil
2.5 cups vegetable stock (or water)
2 bay leaves
40 g flour
basil
salt pepper
Additionally:
lasagna sheets (7.5 pcs was enough for me)
2 tomatoes
Instructions
Fry the onions in vegetable oil, add the chopped eggplants, fry for 2-3 minutes, then simmer for 5 minutes. Add chopped tomato (skinless), bell pepper, simmer for 15 minutes more. Turn off heat, add chopped garlic, stir.
Lean Bechamel sauce. Fry finely chopped onions in vegetable oil, add flour, cook while stirring, then pour in the broth, stirring gradually, all the time, so that there are no lumps until the mass becomes homogeneous. Season with salt and pepper, add bay leaves, basil, and simmer for another 10 minutes.
Grease a baking dish with butter, layout the first layer of lasagna sheets, then half of the filling, cover with lasagna sheets, layout the rest of the filling, and put the lasagna sheets back on. Top with sliced tomatoes and pour over the sauce.
Bake at 180 ° C for 30-35 minutes.
Also Like
Comments for "Vegan Lasagna Recipe"