Chicken Lasagna Recipe
by Editorial Staff
Chicken lasagna is a quick and inexpensive variation of the classic lasagna. Lasagna according to this recipe turns out to be satisfying and juicy.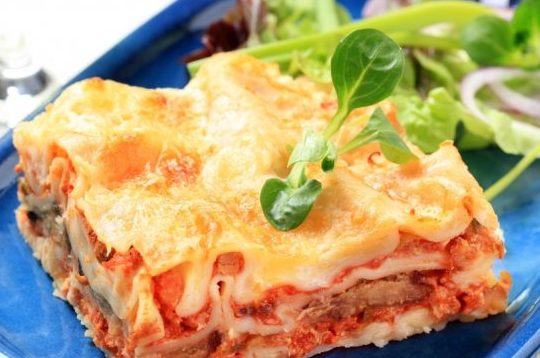 Ingredients
Chicken breast – 500 grams (you can use minced fillet)
Lasagna sheets – 9-12 Pieces
Vegetable oil – 2 tbsp
Onions – 1 Piece
Garlic – 2 Cloves
Tomato paste – 50 Grams
Sugar – 3 Teaspoons
Salt, pepper, Italian herbs – To taste
Butter – 60 Grams
Flour – 40 Grams
Milk – 560 Milliliters
Hard cheese – 100-20 Grams
Tomatoes – 5-6 Pieces
Instructions
In a frying pan preheated with vegetable oil, send finely chopped vegetables – onions, carrots, garlic – to fry.
Once the vegetables are tender, add the minced chicken or minced meat and cook until the meat starts to change color.
Send chopped tomatoes into the pan (I prefer to peel them off beforehand), tomato paste, sugar, spices, salt, pepper to taste. Mix everything thoroughly, cover, and simmer for about an hour.
While our Bolognese is stewing, let's proceed to the Bechamel sauce. In a separate medium bowl, melt the butter over medium heat. Add flour and stir for a minute, until the lumps are gone and the butter starts to boil. As soon as you see the characteristic bubbles, remove from heat and gradually add milk, stirring constantly, until the mixture is smooth. Then put the container back on the fire and stir until the sauce begins to thicken. Add salt and pepper to taste and set aside. Do not leave Bechamel unattended, stir it occasionally to avoid crusting.
Collect the lasagne. In a dish greased with vegetable oil, put the chicken sauce in the first layer, about a third party. Then spread half of the Béchamel and cover with pasta sheets, lightly press down. Depending on the shape, 3-4 sheets are needed. Repeat this three more times.
Brush the last layer with Béchamel sauce and sprinkle with grated cheese. Cover the lasagne with foil and place in the preheated oven for 25 minutes at 180 degrees. Then remove the foil and bake for another 10-15 minutes, until the cheese is golden brown. Let the lasagne cool for 10-15 minutes before serving.
Also Like
Comments for "Chicken Lasagna Recipe"