World's Best Lasagna Recipe
by Editorial Staff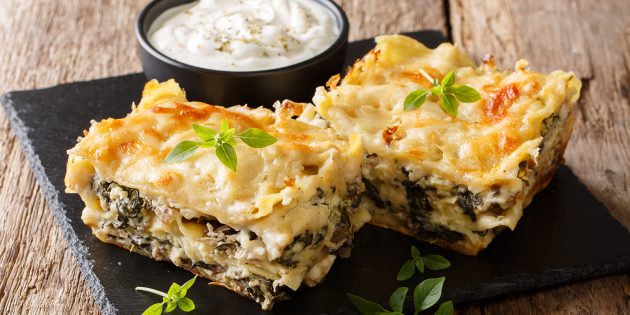 Today we want to introduce to you the best, to our mind, lasagna recipe in the whole world. Hope you will like lasagne with chicken, cottage cheese and mushrooms.
Ingredients
700 g of tomatoes;
200 g of champignons;
500 g tomato paste;
1 onion;
4½ teaspoon dried basil
salt to taste;
500 g boiled chicken;
2 eggs;
900 g low-fat cottage cheese;
80 g of hard cheese;
½ bunch of parsley;
ground black pepper – to taste;
some butter;
350 g lasagne sheets;
300 g mozzarella.
Instructions
Cut the tomatoes into cubes and the mushrooms into slices. Place tomatoes and mushrooms in a saucepan, add tomato paste, finely chopped onion, basil, and salt. Let it simmer, reduce heat, and simmer, covered for 25 minutes. Add chicken pieces and cook for a few more minutes.
In a bowl, combine eggs, cottage cheese, grated cheese, chopped parsley, pepper, and salt.
Grease a baking dish with oil and place a few lasagna sheets on the bottom. Spread part of the curd mixture, part of the tomato-meat filling, and part of the mozzarella on top. Repeat layers.
Cover the tin with foil and place in an oven preheated to 190 ° C for 30 minutes. Remove the foil and bake for another 10-15 minutes.
Also Like
Comments for "World's Best Lasagna Recipe"