Healthy Lasagna Recipe
by Editorial Staff
Lasagna Can Be Good!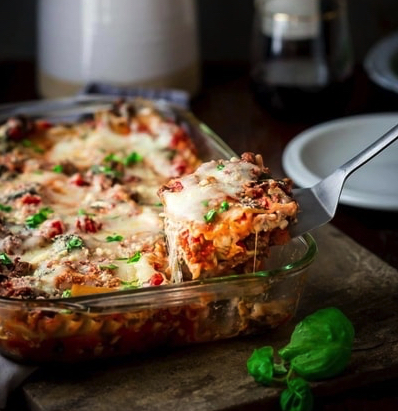 This lasagne contains only 259 calories per serving, which is 77 calories less than most lasagne! This dish is filled with vegetables, lean ground beef, and fresh basil. Light types of ricotta and mozzarella cheeses will help make this dish even lighter.
Ingredients
Layers for lasagna, 14 pcs
Minced beef (80% meat, 20% fat), 300 gr
Champignons, cut, 115 gr
Provencal herbs, 1.5 teaspoon
Garlic, finely chopped, 2 cloves
Tomato, cut into cubes, 900 gr
Salt, 1 teaspoon
Spinach, 400 gr
Basil, 100 gr
Chicken egg, raw, 1 pc
Ricotta cheese, 450 gr
Mozzarella, grated, 220 gr
Parmesan cheese, grated, 2 tablespoon.
Black pepper, 0.5 teaspoon
Instructions
Preheat oven to 200 C. Prepares a baking dish (33 x 23 x 5 cm), brush with olive oil.
Prepare lasagna sheets according to the instructions on the package.
Place a large skillet over medium heat and sprinkle with olive oil. Add minced meat, mushrooms, and seasonings.
Cook over medium heat, stirring with a wooden spoon until the liquid evaporates, 7 to 8 minutes. Add garlic and cook, stirring occasionally for 30 seconds. Then tomatoes, salt and stir well. Bring to a boil, add spinach handfuls at a time, stirring until wilted, until it softens all over, and mixes with the beef, 3 to 4 minutes. Remove from heat and stir in basil.
Beat the egg in a medium bowl. Add ricotta, pepper, and stir until smooth. Divide 1/4 of the tomato mixture into a prepared baking dish, you can add 2 tablespoons of boiled water. Top with a lasagna sheet. Then lay out the tomato mixture along with some of the ricotta mixture. Sprinkle with grated mozzarella (50g). Cover with a lasagna sheet. Put another layer of the tomato mixture and some mixture with ricotta, cover with a leaf. Then the last layer of ricotta and 100g of grated mozzarella. Cover the last lasagna sheet, spread the last layer of the tomato mixture evenly and cover with foil.
Bake until dough is done, 40 to 50 minutes. Remove the foil, sprinkle with 50g of mozzarella and parmesan and bake for about 10 minutes until the cheese is lightly browned.
Let the lasagne cool slightly, sprinkle with basil leaves, and cut into portions.
Also Like
Comments for "Healthy Lasagna Recipe"