Keto Lasagna Recipe
by Editorial Staff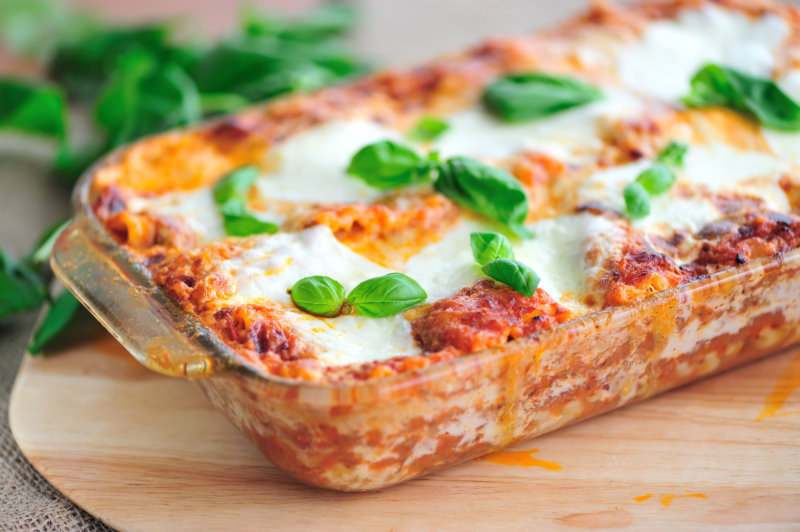 A slide of lasagna…. Oh, that tempting taste of ground beef flavored with cream cheese, hearty tomato sauce, aromatic garlic, and onions! Our version of keto lasagna is the most comfortable and delicious food!
Ingredients
Lasagne sheets:
8 eggs, beaten
275 g cream cheese
1 teaspoon salt
5 tablespoons of powdered psyllium husk
Meat sauce:
2 tablespoons olive oil
1 onion, finely chopped
1 clove of garlic, finely chopped
550 g ground beef
3 tablespoons tomato paste
½ tablespoon dried basil
1 teaspoon salt
¼ teaspoon ground black pepper
½ cup (125 ml) water
Cheese topping:
2 cups (475 ml) crème fraîche or sour cream
150 g grated mozzarella cheese
50 g grated parmesan cheese
½ teaspoon salt
¼ teaspoon ground black pepper
½ cup finely chopped fresh parsley
Instructions
In a medium bowl, beat eggs, cream cheese, and salt until batter forms. Stir constantly, add the psyllium husk to it, and then set the resulting dough aside for a few minutes.
Preheat oven to 150 ° C. Line a baking sheet with parchment paper, place the dough in the center of the parchment paper and then cover it with another piece of parchment. Use a rolling pin to roll out a sheet about 30 x 46 cm. Bake each sheet (with parchment paper) for about 10-12 minutes. Then set them aside to cool. Remove the paper and cut the sheets into plates that will fit in a baking dish about 23 x 30 cm.
Heat olive oil in a large skillet over medium-high heat. Add onion and garlic. While stirring, fry them until soft. Then add the minced beef, tomato paste, and spices. Mix everything thoroughly and cook until the beef is no longer pink. Add water to the mixture, bring it to a boil, then reduce heat and simmer for at least 15 minutes, or until most of the water has evaporated. Set the sauce aside.
Combine mozzarella with sour cream and most of the parmesan cheese. Save two tablespoons of Parmesan cheese for the final topping. Season with salt, pepper, and parsley.
Preheat oven to 200 ° C. Grease a 23 x 30 cm baking dish with butter and alternate between the lasagna sheets and meat sauce in the baking dish. Start with the leaf and top with the meat sauce and spread the cheese mixture on top of the leaf. Sprinkle the lasagne on top with the remaining Parmesan cheese.
Bake it in the oven for about 30 minutes, or until it is lightly browned. Serve lasagna with a green salad and your favorite dressing.
Also Like
Comments for "Keto Lasagna Recipe"