Healthy Meat Lasagna Recipe
by Editorial Staff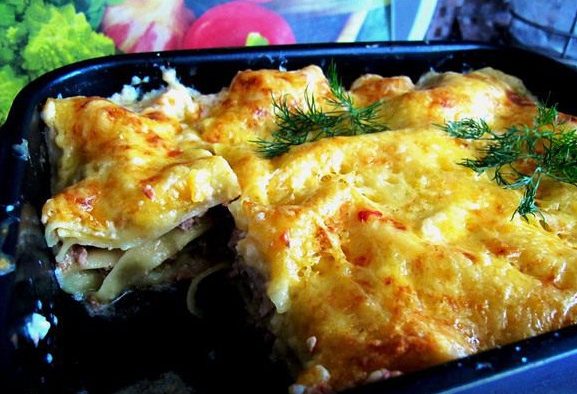 Meat lasagna is a must and part of Italian cuisine, and it is said that the best meat lasagna can be enjoyed in small, family-run restaurants away from the busy hiking trails. And we suggest you learn how to cook this dish yourself and enjoy it without leaving your home, even every day!
Ingredients
Lasagne sheets (12 pcs.) – 250 g
Minced chicken breasts – 400 g
Onions – 100 g
Mashed tomatoes – 150 g
spices "Italian mix" – 5 g
Semi-hard cheese – 100 g
Milk 3.5% – 0.5 l
Butter – 50 g
Flour – 4 tablespoons
Salt
Instructions
Make minced meat from chicken breasts and onions. Add mashed tomatoes to it. Grate the cheese. I cooked the Bechamel sauce for lasagna in the microwave. And faster and less dirty dishes. But all the same, can be done on the stove. So … Melt the butter in the microwave. Add flour and stir to avoid lumps.
Heat milk in the microwave and stir in our butter mixture. Add spices, a little salt, and rub well to avoid lumps. Turn the oven on for preheating.
Take a baking dish (mine is about the size of a sheet of A4 paper), grease it with oil, pour some of the sauce on the bottom.
And spread the lasagna sheets so that they cover the bottom of the mold.
Top with half the minced meat, a little sauce, again lasagna sheets, minced meat, sauce, lasagna, sauce, and grated cheese on top.
Bake the lasagne in the oven at 180-200 degrees for about 45 minutes. If you have an "advanced" oven, select the 3D ventilation mode. This is uniform heating with hot air from all sides. This recipe also works well for an airfryer.
Also Like
Comments for "Healthy Meat Lasagna Recipe"