Spinach Lasagna Recipe
by Editorial Staff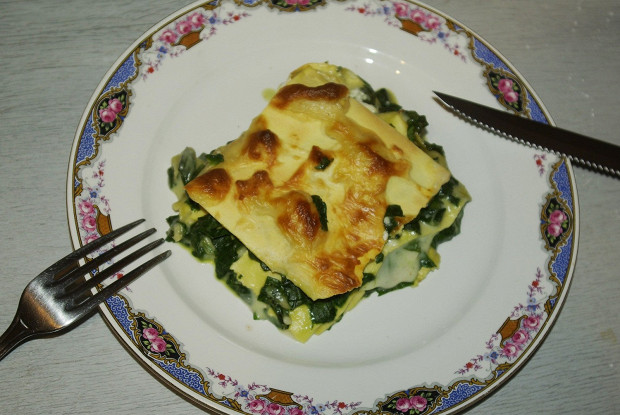 Lasagna is a delicious and hearty Italian dish. There are a colossal number of its varieties. My family especially loves two options – meat and cheese. Today we will cook it not only with cheese, but also add some healthy greens in the form of spinach.
Ingredients
Ready dry sheets of lasagna 8 pieces
Spinach 500 g
Soft goat cheese 1 piece
Milk 30 ml
Butter 30 g
Wheat flour 10 g
Ground black pepper ⅓ teaspoon
Salt 1 teaspoon
Instructions
Wash the spinach, cut, and cook in a double boiler for 5 minutes. If the spinach is frozen, defrost it, no need to cook.
While the spinach is cooking, make the béchamel sauce: melt the butter in a small saucepan over low heat; then add flour, stirring with a whisk; add milk slowly, stirring continuously. If the sauce is thick, add more milk. Add salt and pepper to taste. The sauce is ready, turn off the heat.
Put the lasagna on the bottom of a refractory mold, then a layer of spinach, a few circles of cheese, cover 1/3 of the béchamel sauce, cover with lasagna, spread the next layers in the same way. Cover the last layer with lasagna, top with the rest of the sauce. You can also put cheese on top of your choice.
We bake at 180 degrees for 30 minutes.
Also Like
Comments for "Spinach Lasagna Recipe"