Spinach Lasagna Recipe Simple
by Editorial Staff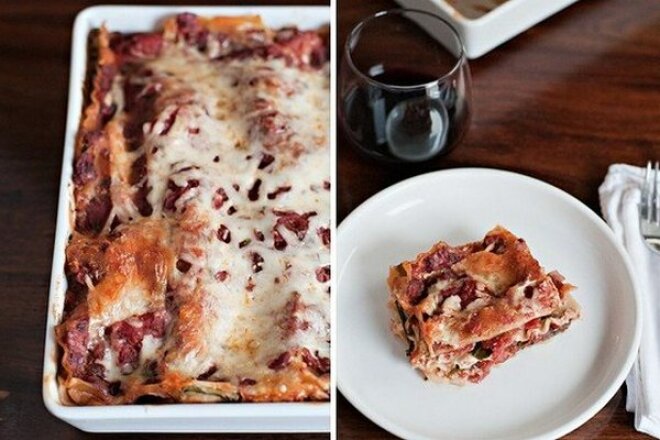 Delicious products and aromatic spices, Mediterranean chic, and healthiness – all this is lasagna. Spinach is an unusually useful product, it contains iron, which is necessary for the activity of hemoglobin, and the vitamins in this product can be preserved during heat treatment.
Ingredients
ricotta cheese 500 g
lasagna sheets 450 g
spinach 425 g
mozzarella cheese 75 g
olive oil 2 tablespoons
marinara sauce
for the sauce:
tomatoes in their own juice 800 g
1/2 cup red wine
onion 1 head
olive oil 2 tablespoons
Italian herbs 1 teaspoon
chili flakes 1/2 teaspoon
garlic 4 cloves
greens 1 bunch
ground black pepper
salt
Instructions
Heat the olive oil, fry the chopped onions, add the garlic and chili flakes passed through a press. Add products gradually, pause. Pour in red wine, bring to a boil. Leave to simmer, half of the liquid should boil.
Add chopped tomatoes in your own juice, salt, ground pepper, any spices – if desired. Simmer for 15 minutes, then add the chopped herbs. This sauce can be served immediately or stored in the refrigerator for several days, whisk in a blender before use.
Grease the mold with olive oil, lay out a layer of ready-made lasagna sheets purchased from the store. Add half of the ricotta cheese, half of the freshly chopped spinach, drizzle with a little of the prepared sauce. Repeat the layers; dough and sauce should be on top.
Grate the cheese, sprinkle on the dish and cover the dish with foil. Put in the oven for an hour, bake at 175 degrees. Then remove the foil and bake the dish until golden brown. Remove the lasagna with spinach and marinara sauce from the oven, let stand for 10 minutes and serve.
Also Like
Comments for "Spinach Lasagna Recipe Simple"