Easy Lasagna Recipe with Cottage Cheese
by Editorial Staff
This detailed recipe on how to make minced meat and cottage cheese lasagna is a fairly simple and quick variation on a traditional dish. If desired, you can also add Bechamel sauce or vegetables to taste, for example.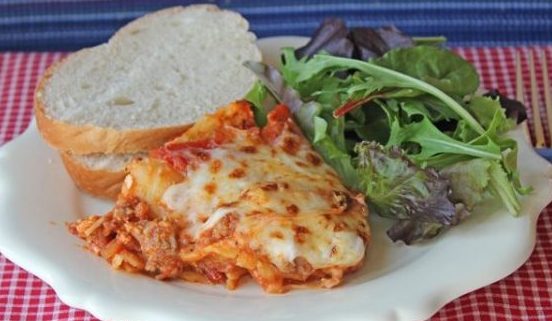 Ingredients
Onion – 1 Piece
Garlic – 2 Cloves
Tomato sauce – 200
Gram Egg – 2 Pieces
Cottage cheese – 300
Gram Salt – 1 Pinch
Pepper – 1 Pinch
Provencal herbs – 1 Pinch
Parmesan – 100 Gram
Lasagna leaves – 9 Pieces
Minced meat – 400 Gram
Instructions
Peel the onion and cut it into small cubes. Pass the garlic through a press or grate. Fry in a pan with a little oil. Wash, dry, and grind the meat in a meat grinder or blender. Add meat to the pan and fry for 5-7 minutes.
Drive eggs into a small bowl and beat a little with a fork and a pinch of salt.
Add cottage cheese and some grated Parmesan cheese. Pour in a pinch of pepper and Provencal herbs. You can also use nutmeg or other spices to taste in the recipe for lasagna with minced meat and cottage cheese.
Tomato sauce is best prepared from fresh tomatoes, chopping them in a blender with spices. Add the sauce to the pan to the meat and simmer over low heat until tender. For a richer color, you can add a little tomato paste.
Salt and pepper the minced meat to taste, add spices for meat or fresh herbs. Put some of the meat sauce on the bottom of the dish and cover it with lasagna sheets.
Put the curd mass on top in an even layer.
Depending on the height of the side of the mold, layers can be repeated 2 or 3 times in the same sequence.
Curd mass on lasagne leaves.
Then the rest of the minced meat. Smooth out and press with a spoon if necessary. Lasagne with minced meat and cottage cheese at home can be harvested differently if desired so that the sheets are on top.
Sprinkle with grated cheese and send the form to the oven for 35-40 minutes.
To cook the lasagna properly and not burn the top, cover the mold with foil and remove it 10 minutes before being ready.
Also Like
Comments for "Easy Lasagna Recipe with Cottage Cheese"