Easy Lasagna Recipe with Jar Sauce
by Editorial Staff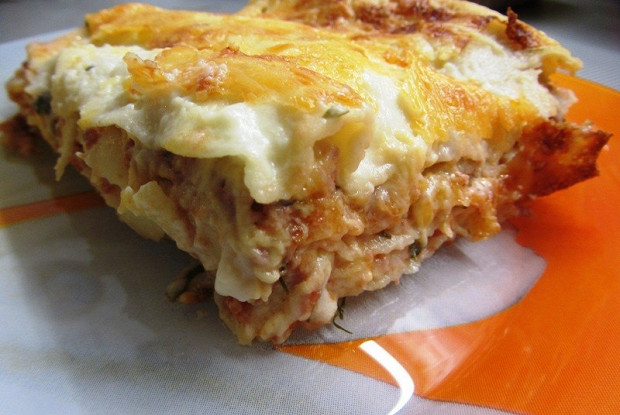 As I already wrote, the number of lasagna sheets depends on the form in which it will be cooked. I have a square shape, and the lasagna sheets are usually rectangular – I put 2 sheets side by side, one sheet 3-5 mm goes over the other so that the layer does not fall through and scatter when the filling is on top.
Ingredients
Finished dry lasagne sheets 8 pieces
Ground beef 500 g
Carrots 1 piece
Onions 1 piece
Garlic 3 cloves
Tomatoes 2 pieces
Salt to taste
Basil to taste
Pepper mix to taste
Provencal herbs to taste
Butter 4 tablespoons
Wheat flour 4 tablespoons
Milk 500 ml
Cheese 300 g
Instructions
I buy sheets of lasagna that don't need to be boiled (it's easier this way). First, prepare the filling for the lasagna. Fry 1 medium onion (finely chopped), 1 medium carrot (finely grated) in vegetable oil.
Add 500 g of minced meat (beef or beef + pork) to the pan, add 2-3 cloves of garlic.
Then add chopped tomatoes with peeled skin (if medium – 2 pcs., Small – 3 pcs.); everything should be stewed together for 10-15 minutes, at the same time add salt, a mixture of peppers (a little), Provencal herbs, basil.
When the minced meat is ready, make the béchamel sauce. Melt 4 tablespoons of butter in a saucepan, add 4 tablespoons of flour, stirring thoroughly so that there are no lumps. Then gradually, in a thin stream, stirring constantly, add 500 ml of milk. Salt to taste. The process of pouring milk and thickening the sauce takes about 10 minutes (stir all this time).
When the bechamel sauce has thickened, immediately collect the lasagne. Grease the bottom of the mold with butter, lay dry lasagna sheets on the bottom (the number of sheets depends on the form in which your lasagna will be prepared), on them – a layer of minced meat, then pour the bechamel sauce, sprinkle with grated cheese. We alternate the layers until the shape is filled (I get 3 layers). The last layer (4th) – lasagna sheets, béchamel sauce, grated cheese.
We bake in the oven for 30 minutes at 200 degrees.
Also Like
Comments for "Easy Lasagna Recipe with Jar Sauce"