Easy Lasagna Recipe Ricotta
by Editorial Staff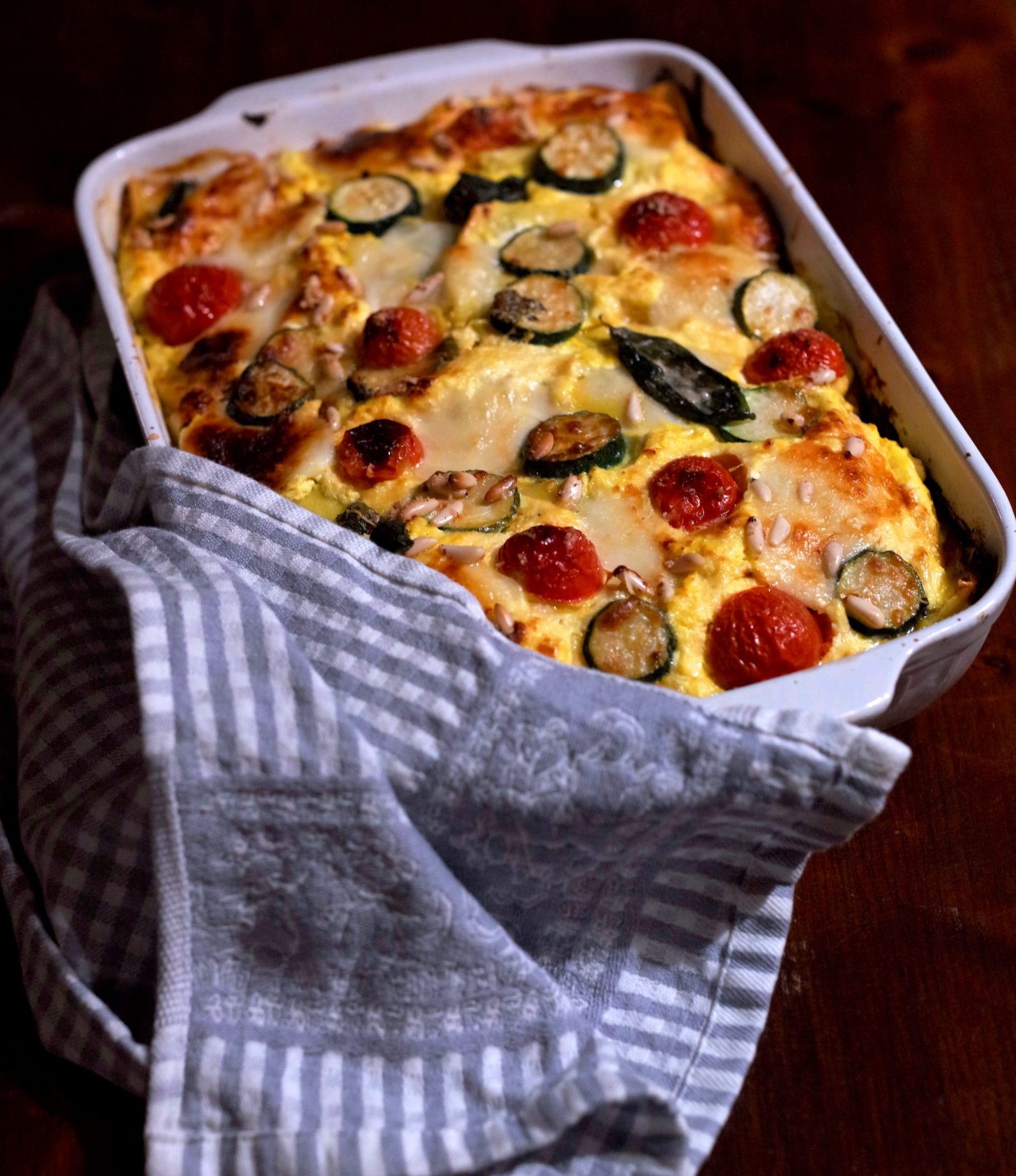 The ricotta lasagna is very festive. It will look fantastic on a table. Without meat stew, with ricotta filling, it turns out to be simply great.
Ingredients
for the test:
Flour – 500 g
Eggs – 5 pcs.
Water – 2 tablespoons
Olive oil – 1 tablespoon
Sea salt – 1 pinch
for assembling the lasagna:
Mozzarella for pizza – 400 g
Zucchini – 3 pcs.
Cherry tomatoes – 10 pcs.
Pesto – 400 g
Grated Parmesan – 1 handful
Pine or pine nuts – 1 handful
Green basil – 1 sprig
Fresh oregano – 1 sprig
Garlic – 1 clove
Olive oil
for ricotta filling:
Ricotta – 600 g
Eggs – 3 pcs.
Grated Parmesan – 1 handful
Nutmeg
Sea salt
Ground black pepper
Instructions
The first step is the dough. Knead it, let it rest, and roll it into strips 15 cm wide and 1 mm thick. In a large amount of salted boiling water, cook the pasta 3-4 sheets each, gently stirring, for 1 minute. Transfer gently to a bowl of cold water and 2-3 tbsp olive oil. Allow cooling completely. Put on a towel and pat dry.

The next step is the ricotta filling. Mash the ricotta with a fork or spatula, add eggs, parmesan, season with salt, pepper, and grated nutmeg. Mix everything thoroughly so that the mass is uniform in color.
Now – vegetables and cheese for the filling. Heat olive oil in a skillet over medium heat with thin slices of garlic until aromatic. Pour zucchini in slices, oregano, and cook, stirring occasionally, for 2-3 minutes to keep the zucchini crispy. Season with salt, remove from heat, cut the mozzarella into 5 mm slices the size of a matchbox, and cut the cherry in half.
Preheat oven to 180 ° C. Grease a rectangular baking dish with olive oil, add a few teaspoons of pesto. Put the paste in one layer with a slight overlap between the sheets. If necessary, trim off excess dough. Put a few spoons of ricotta and pesto filling, a few slices of mozzarella and zucchini, add a couple of pinches of parmesan and nuts each. Cover with another layer of dough and add all the filling ingredients. Repeat still 2-3 times, the last should be the filling layer. Top with cherry tomatoes, basil leaves and generously sprinkle with Parmesan.

Place in the oven for 25-30 minutes until golden brown. Bon appetite!
Also Like
Comments for "Easy Lasagna Recipe Ricotta"