Easy Skillet Lasagna Recipe
by Editorial Staff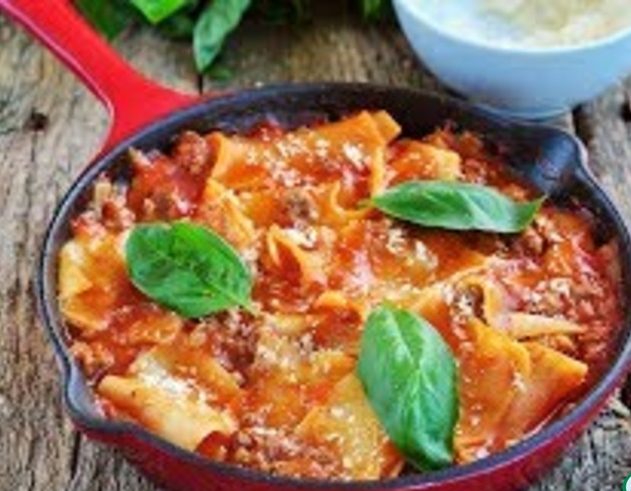 Love lasagna but don't like cooking? Then this lasagna recipe will certainly help you out. Pan lasagna is a great alternative to classic oven lasagne. Delicious skillet lasagna takes no more than half an hour to cook, and a gourmet Italian dinner can be served.
Ingredients
Tomatoes in their own juice (chopped) – 300 g
Lasagne (sheets) – 4 pieces
Minced meat – 300 g
Spices (for minced meat) – 1 teaspoon.
Tomato sauce – 100 g
Water – 100 ml
Onions (small) – 1 pc
Garlic – 1 tooth
Olive oil – 4 tbsp
Salt
Black pepper
Hard cheese – 50 g
Basil (for serving)
Instructions
Put the pan over medium heat to warm up. Add oil. Meanwhile, peel the onion and cut it into cubes. Finely chop the garlic.
Pour onion into a preheated pan, sprinkle with salt, fry over medium-high heat for 5 minutes, stirring once during this time. Meanwhile, in a bowl, combine the tomato sauce, chopped tomatoes, and water.
Put the minced meat and garlic in the fried onions, sprinkle with minced meat spices, salt, and pepper, mix. Fry over medium-high heat, stirring occasionally, for 5 minutes.
Break the lasagna sheets into pieces about 5 cm in size.
Put the broken sheets on the minced meat. Pour the tomato mixture over the contents of the pan.
Bring the future lasagna to a boil over high heat, then cover the pan with a lid, reduce the heat to medium-low and cook the meat lasagna for about 12-15 minutes. Remove the lid 3 minutes before cooking to allow the sauce to boil off a little.
Grate the cheese on a fine grater. Sprinkle the cooked lasagna with meat with cheese and serve directly in the pan. Decorate with basil leaves.
Also Like
Comments for "Easy Skillet Lasagna Recipe"