Easy Mexican Lasagna Recipe
by Editorial Staff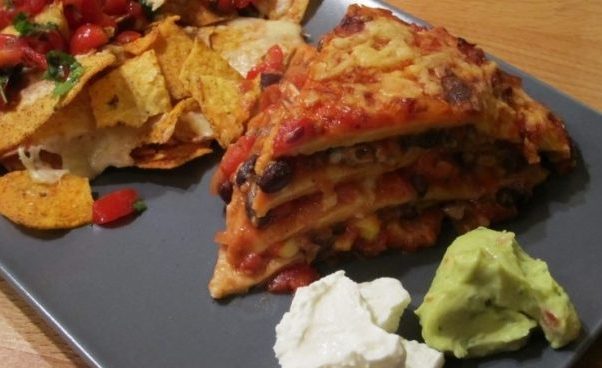 A simple Mexican lasagna recipe – read it! A kind of Mexican variation of a traditional Italian dish. The result is a very original and satisfying dish with a wonderful cheese crust.
Ingredients
Olive oil – 1 tbsp
Onion – 1 Piece
Red bell pepper – 1 Piece
Chili Pepper – 2 Pieces
Salt – 1 Teaspoon
Fresh cilantro – 2 tbsp
Tomatoes – 600 Grams
Water – 400 Milliliters
Ketchup – 2 tbsp
Canned black beans – 800 Grams
Canned corn – 450 grams
Cheese – 250 Grams
Tortillas – 8 Pieces
Instructions
Preheat the oven to 200 degrees. Heat the olive oil in a brazier, put finely chopped bell peppers, onions, and chili peppers in it. Salt and cook over medium heat for about 10 minutes.

Add finely chopped cilantro to the vegetables.
Then add finely chopped tomatoes and water to the roasting pan. Stir and simmer over medium heat for 10 minutes. While the vegetables are stewing, combine 2/3 of the cheese, corn, and black beans. Add a little bean/corn mixture to the vegetables in the brazier.
We take a heat-resistant dish and begin to shape our lasagne. We spread about a third of the vegetable sauce on the bottom, put two tortillas on top. Put a little bean, corn, and cheese filling on the tortilla. Then – a little sauce again, two tortillas, and a layer of the vegetable filling. And again the same thing – a layer of sauce, two tortillas, a layer of filling.
The top layer should be a layer of tomato sauce. Sprinkle it with the left grated cheese on top.
Bake for about 25 minutes at 200 degrees until a cheese crust forms. We take out the finished Mexican lasagna from the oven and serve it to the table.
Bon appetite.
Also Like
Comments for "Easy Mexican Lasagna Recipe"