Mexican Lasagna Recipe
by Editorial Staff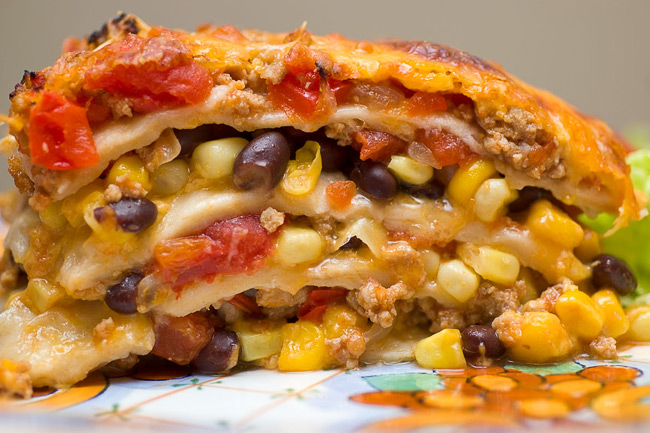 Juicy, aromatic, hearty, and very rich in flavors, at a low cost – this Mexican lasagna will serve as a wonderful lunch or dinner.
Ingredients
2 cans Red beans, ready-made
2 cans corn
200 gr Grate cheese, usually Cheddar
8 pcs Large cakes, wheat
400 gr Mixed minced meat or poultry
2 cans Chopped tomatoes in their own juice or trade winds
Chop 2 sprigs of cilantro
1 teaspoon Salt
2 pcs Green chili seeds, remove, pepper finely chop
1 PC. Red bell pepper Peel and chop finely
1 pc Milk onion chop
3 cloves Finely chop the garlic
1 tablespoon Vegetable oil
to taste Seasoning Taco
Directions:
Heat the oil in a small saucepan and fry the bell peppers, chili, and chopped onion until transparent. Add the minced meat and, stirring, fry the minced meat until the color changes, breaking large pieces of minced meat into smaller pieces. Add salt to taste and simmer for about 15 minutes on low heat, avoiding burning.
Add the tomatoes in their own juice, pour some water into the jar, rinse off the remaining juice, and pour them into the sauce. Add chopped cilantro and taco seasoning. Stir and simmer for another 10 minutes.
Put the beans in a colander and rinse. In a large bowl, combine beans and corn. Grate cheese on a coarse grater. Add ⅔ cheese to the corn and beans.
Put 2 tortillas in a greased baking dish, covering the bottom. The tortillas can be torn apart to make them easier to use by placing a third of the corn and beans on top of the tortillas and adding about a quarter of the sauce. Top with two more tortillas and cover them again with beans and sauce. So use all the filling for the lasagna, the top layer should be tortillas. Brush the cakes with the remaining sauce and sprinkle with the remaining cheese.
Place the lasagna dish in a 200 ° C oven and bake for about 30 minutes until cooked through.
Remove the dish from the oven and leave it to "rest" for 10-15 minutes. Cut the lasagna into pieces and serve with various salsas, for example, cucumber salsa, or Creole salsa, as well as sour cream, especially if the lasagne is spicy.
Also Like
Comments for "Mexican Lasagna Recipe"