Lasagna Recipe with Cottage Cheese
by Editorial Staff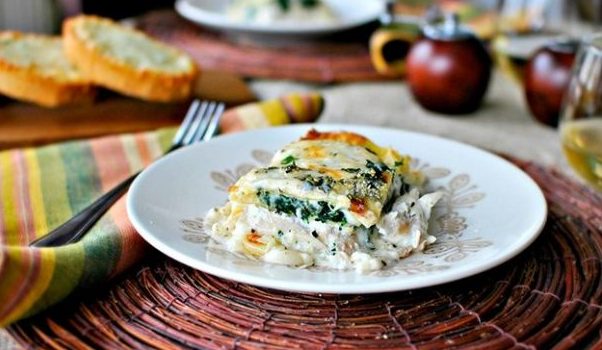 Don't know how to please yourself and your loved ones with tasty treats? Then here's an option for you – lasagna with cottage cheese and cheese at home. Delicate filling, complemented by chicken and spinach, is incredibly appetizing.
Ingredients
Lasagne Sheets – 9 Pieces
Butter – 100 Grams
Onion – 1 Piece
Garlic – 1-2 Cloves
Flour – 4 tbsp
Milk – 300 Milliliters
Curd – 200 Grams
Hard cheese – 100 grams
Parmesan – 100 Grams
Chicken fillet – 300 grams (optional)
Salt – 1 Pinch
Pepper – 1 Pinch
Spinach – 200 Grams
Basil – 1 Pinch
Oregano – 1 Pinch
Parsley – 1 Pinch
Instructions
If chicken is used in the filling, then the fillet must be washed, filled with water, and sent to simmer. Meanwhile, peel and chop the onion and garlic. Wash, dry, and chop the parsley.
Combine cottage cheese with grated cheese and half of grated Parmesan. Mix everything thoroughly. Add pepper and spices if desired. Cut the boiled chicken into small cubes and add to the cheese and curd mass. The recipe for making lasagna with cottage cheese and cheese can be without chicken if desired, it will be no less tasty.
Now we can do the sauce. Melt the butter in a saucepan. Pour in the flour, stir and pour in milk after a couple of minutes. While stirring, boil over low heat.
When the sauce begins to thicken, add a little cheese, salt, and spices to taste. Stir thoroughly again and remove from heat.
Place a little sauce on the bottom of an ovenproof dish. Then lasagna sheets. Smooth out about half of the curd and cheese filling.
A layer of sheets, pressing tightly on the filling. Pour the sauce and add the chopped parsley. Homemade lasagna with cottage cheese and cheese can also be made with spinach, which is ideal with cottage cheese.
Pour the remaining sauce over the top layer of lasagna leaves and sprinkle with grated cheese. Send the form to the preheated oven.
The dish will be ready in about 40 minutes. It needs to be allowed to cool slightly, and then cut and served.
Also Like
Comments for "Lasagna Recipe with Cottage Cheese"