Lasagna Recipe with Cottage Cheese
by Editorial Staff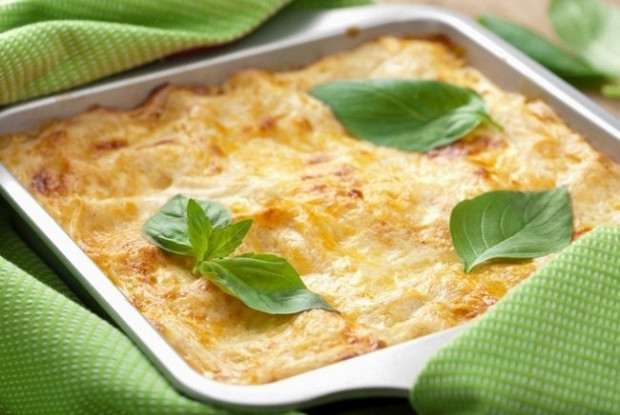 We all know lasagna with meat and Bechamel sauce, and you can try the sweet version of this dish. A very tasty and tender sweet lasagna with cherries and cottage cheese turns out. Suitable for dessert.
Servings: 4
Cooking: 1 hour
Ingredients
Curd 500 g
Cottage cheese 300 g
Chicken egg 2 pieces
Butter 45 g
Ready dry sheets of lasagna 3 pieces
Salt to taste
Spices
Instructions
Rub the cheese.
Pour water into a glass and add a spoonful of salt.
Add 2 eggs to the curd and beat.
Add to the curd mass 5 tbsp salted water.
Add softened butter.
Add a pinch of salt.
Take a baking dish and place a sheet of foil on the bottom. Lubricate the foil with oil.
Place the lasagne sheets on the foil.
Spread 1/4 of the curd mixture over the lasagne sheets. Add a layer of cheese on top (1/4 of the mass).
From above in different places add 3 tbsp salted water.
Layout a layer of lasagna sheets. Distribute the curd mass on top, put the grated cheese, and add 3 tbsp water.
We spread all 4 layers of lasagna so that the cheese becomes the last layer. Cover the ends with foil.
Bake in a well-preheated oven for 30 minutes until the cheese is browned.
Serve hot lasagne.
Also Like
Comments for "Lasagna Recipe with Cottage Cheese"