Lasagna Recipe with Cottage Cheese
by Editorial Staff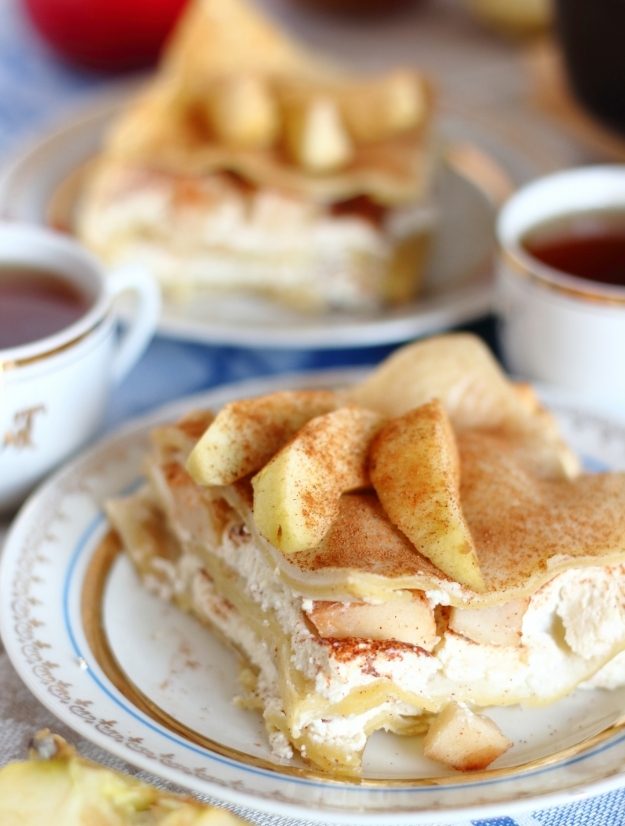 Let's prepare an unusual version of lasagna – sweet, dessert cottage cheese lasagne with apples and cinnamon. A very satisfying, tender, and delicious dish!
Ingredients
Cottage cheese – 540 g
Eggs – 3 pcs.
Sugar – 4-6 tablespoons
Lasagne sheets – 12 pcs.
Milk – 500 ml
Flour – 2 tablespoons (with a small slide)
Apple – 2 pcs.
Cinnamon to taste
Butter – 1 teaspoon
Instructions
First, let's prepare the sauce. To do this, put 400 ml of milk on the fire and bring it to a boil. While the milk heats up, combine one yolk (we don't need protein), two tablespoons of sugar, and flour.
Grind the ingredients well with a fork or whisk. Pour in the remaining milk. We continue to grind until smooth. If necessary, you can rub it a couple of times through a strainer.
Pour the prepared sauce into the hot milk in a thin stream, stirring the liquid without ceasing. We keep on low heat for a few more minutes, also stirring. During this time, the mass will thicken.
Turn off the heat and stir for a couple of minutes, then leave the sauce aside.
Let's prepare the filling. Combine cottage cheese, two eggs, and the remaining sugar. Stir until smooth. Peel the apples cut them into small cubes.
Boil lasagna sheets until half cooked (3-5 minutes each). Form lasagne with cottage cheese.
Grease the form with butter. Lubricate the bottom with plenty of sauce, lay a layer of sheets on top.
We coat the sheets with sauce, evenly spread half the curd filling and half the apple cubes.
Sprinkle everything with cinnamon to taste.
We repeat everything one more time: sheets, sauce, curd filling, apples, and cinnamon. Then comes the top layer of lasagna sheets. Cover it with the remaining sauce, sprinkle the surface with cinnamon.
We bake in the oven at 180 degrees for at least 40 minutes, until tender. After 20 minutes of cooking, you can cover the tin with foil to prevent the top from drying out. The lasagna sheets should be soft and easily pierced with a knife.
Lasagne with cottage cheese is ready! Bon Appetit!
Also Like
Comments for "Lasagna Recipe with Cottage Cheese"