Ravioli (Classic Recipe)
by Editorial Staff
Ravioli is a kind of Italian "dumplings", but their distinguishing feature is the dough, which is cooked on eggs. Once you have tasted real ravioli, you will immediately feel the difference.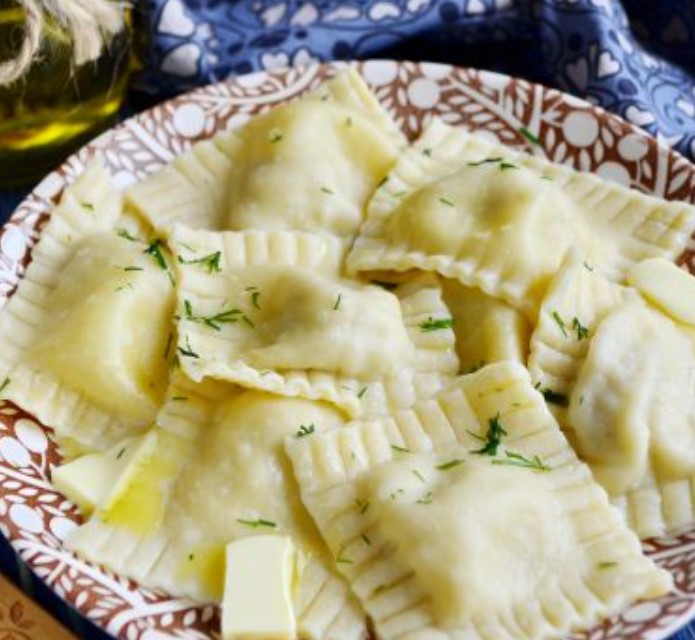 Cook: 1 hour
Servings: 2-3
Ingredients
Flour – 200 Grams
Egg – 2 Pieces
Olive oil – 1 tablespoon the spoon
Salt – 2 Pinches
Minced meat – 250 grams (beef or mixed)
Onion – 1 Piece
Salt, spices – To taste
Directions
Prepare food for dough and minced meat. I use a mixed mince: a slice of beef, pork.

Sift flour into a bowl or on a table. Make a well, add eggs, salt and a spoonful of oil.
Knead a tough dough, knead well, until the bun is smooth and firm. You may need a little more flour, look at the dough. Put the finished dough in a bag and let it rest for 30-40 minutes. This will make the dough softer and more pliable.
Prepare the minced meat: twist the meat through a meat grinder, add finely chopped onions, salt, spices, a couple of tablespoons of water (for juiciness). Mix the minced meat well with your hands, remember it.
Divide the dough into 4 equal parts. Roll out one part as thin as possible, about 1 ml.
Take the minced meat with a teaspoon and lay out in even rows.
Roll out the second sheet of dough, cover the first sheet with minced meat. Gently walk between the rows with the edge of your palm, press down a little dough.
Use a pizza knife to cut the dough into squares. A wavy knife will be more beautiful!
For a better fit, press down on the edges of the ravioli with a fork.

Bring water to a boil, season with salt. Cook the ravioli for 5-7 minutes.
Serve ready-made ravioli with butter and herbs to the table! You can offer sour cream, mayonnaise or your favorite sauce.
Bon Appetit!
Also Like
Comments for "Ravioli (Classic Recipe)"