Mexican Steak Burrito (Classic Recipe)
by Editorial Staff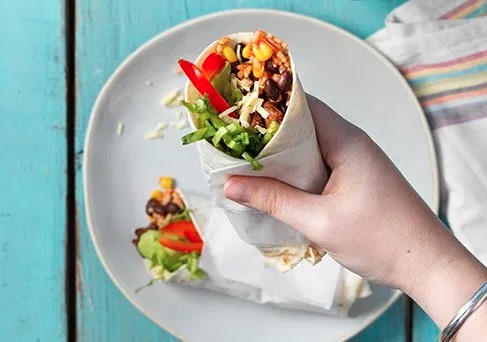 These delicious burritos for the whole family are a great dinner for weekdays. Packed with vegetables and a variety of flavors, these Mexican steak burritos almost guarantee clean plates!
Ingredients
strips steak of beef 300 g
1/2 bag Farrah's Burrito Spice mix
1 large avocado
1/2 lemon juice
400 g jar of Mexican tomatoes
400 g can of black beans
Microwave-safe bag of 250 g brown rice
1 cup frozen corn kernels
6 burrito scones
Suggested fillings:
salad, cheese, pepper
Directions
Cut the steak into thin strips. Toss the meat with the spice mixture. Set aside.
Mash the avocado with lemon juice. Season to taste. Set aside.
Add tomatoes, dried black beans, rice, and corn kernels to the skillet. Mix and cook over medium heat, stirring occasionally, for about 10 minutes, until the sauce is absorbed into the rice.
Heat a skillet with a little oil. Stir-fry the sliced steak strips until tender. Fill with rice mixture, steak, salad, cheese, paprika, and avocado. Roll out to add the filling.
Also Like
Comments for "Mexican Steak Burrito (Classic Recipe)"