Mexican Burrito Authentic Recipe
by Editorial Staff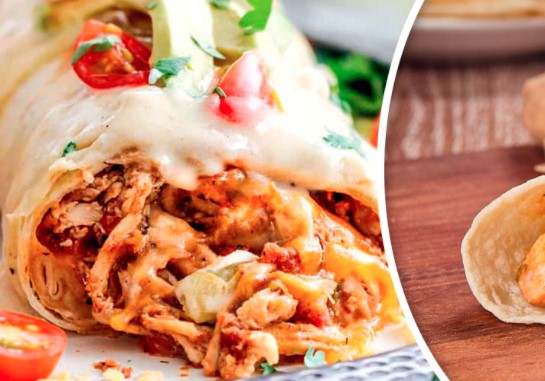 I present to you a burrito – a traditional Mexican dish. With all the ingredients, preparation is pretty quick and very simple. After all, in just 15 minutes you will already be holding a hot, tasty, and spicy Mexican burrito in your hand according to the classic recipe!
Cook: 15 mins
Servings: 2
Ingredients
300 g Chicken fillet
150 g canned beans
150 g canned corn
300 g Tomatoes Canned tomatoes or tomato puree are also suitable
1 pc Sweet bell pepper
250 g Hard cheese
1 pcs package of the tortilla is sold in almost any supermarket (corn pita bread)
3 pcs of garlic cloves
1/2 teaspoon chili
1/4 teaspoon cumin (zira) optional
4 stalks green onions optional
Directions
Prepare all the ingredients, chop for garlic and onions. If you want to cook more than 2 burritos, then the pan should be with a deep bottom. Put a frying pan on medium heat, lightly drip on olive oil or vegetable oil, and fry the onion and garlic for 2-3 minutes.
Cut the chicken fillet into small pieces (2-3cm), then fry them in a preheated frying pan with vegetables. Fry for 4-5 minutes over high heat until golden brown, in small portions. Stir occasionally.
While the chicken is fried, you can cut the bell pepper into strips, after we have fried all the meat, add our chopped peppers, onions, and garlic to it. Fry over medium heat for 3 minutes, stirring occasionally. At this time, you can cut the tomatoes into small pieces.

Now add the corn, cumin, chili powder, canned beans, and chopped tomatoes. In winter, tomatoes are not sold in every store, so we can replace them with canned tomatoes or tomato puree. Cumin should be ground into small grains. Stir and cook over medium heat for another 3 minutes.
Grate hard cheese on a coarse grater, add to the pan, and mix again. Cover with a lid and wait for the cheese to melt. When the cheese has melted, stir and remove from heat.

Now we make a burrito: put 3-4 tablespoons of the finished filling on the edge of the cake. Then we fold the tortilla by first bending the lower part, and then we twist it like a roll. I advise you to wrap the bottom of the burrito with foil/paper/parchment before serving, as the filling is hot enough.

Our classic Mexican burrito is completely ready-made, bon appetit!
Also Like
Comments for "Mexican Burrito Authentic Recipe"