Authentic Churro Recipe
by Editorial Staff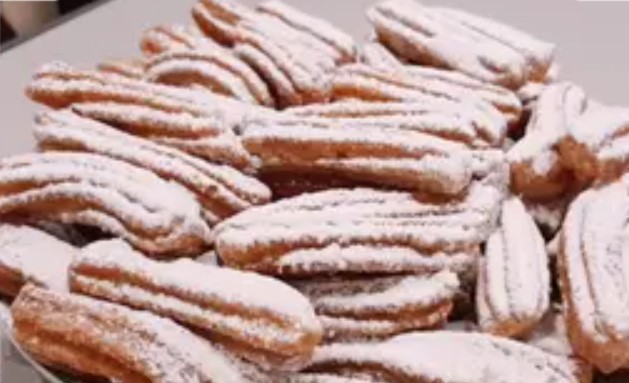 Churros are a delicious Spanish dessert that is actually the most common deep-fried straws on choux pastry. If you want to delight your family with delicious cookies for tea, stay with me and I will teach you how to make authentic Spanish churros.
Cook: 1 hr
Servings: 3
Ingredients
Butter -100 g
Water – 250 ml
Wheat flour – 250 g
Salt – 1 pinch
Cinnamon – 1/4 teaspoon.
Eggs – 3 pcs.
Vegetable oil – 500 ml
Powdered sugar – 50 g
Directions
Pour water into a saucepan and put it on the stove.
Add salt and butter to the water. Heat up the water until it boils. The butter should melt completely in boiling water.
When the water and oil come to a boil, add the cinnamon to the boiling mass.
Put the flour into the boiling mass and immediately reduce the heat to a minimum. Knead the dough quickly and turn off the stove.
Leave the kneaded dough to cool down for 10-15 minutes.
Add the eggs to the dough one by one. Beat the egg, mix the dough, and only then beat the next egg. The dough should resemble thick cream.
Heat the oil for deep frying in a frying pan. Place the dough into a piping bag. When the oil is hot, put strips of the dough into the pan. Brown the churros on each side.
Place the churros on a plate and sprinkle them with powdered sugar. If you want to reduce the calories in your dish, place the churros on a plate covered with several layers of paper napkins. The napkins will absorb some of the oil, and your dish will be less calorie-dense.
Also Like
Comments for "Authentic Churro Recipe"