Churro Recipe Disney
by Editorial Staff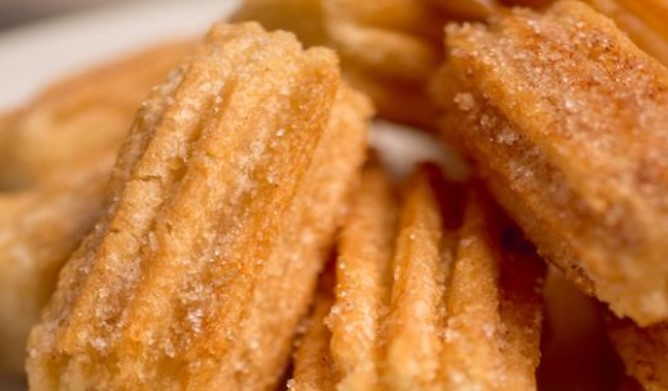 Many theme parks around the world are now closed, but Disneyland continues to offer surprises to its stay-at-home fans. The company arranges virtual tours of its parades and now has shared some recipes for its classical treats.
Servings: 4
Ingredients
Water – 200 ml
Butter -110 g
Sea salt – 0.5 teaspoon.
Cinnamon
Flour – 300 g
Eggs – 3 pcs.
Vegetable oil – 300 ml
Fine sugar to serve
Directions
Mix the water, diced butter, salt, and cinnamon in a thick-bottomed saucepan. Bring the mixture to a boil over medium heat.
Reduce the heat to a minimum and gradually add the flour vigorously stirring the contents of the saucepan. You should get a homogeneous choux pastry that will easily come off the walls and the bottom of the pan. Remove the saucepan from the heat and leave it for 5-7 minutes.
Add the eggs one by one to the warm dough each time stirring the contents of the pan until homogeneous.
Heat the oil up to 350 C˚ in a suitable pan with a thick bottom. Place the dough into a piping bag with a "star" tip (or just in a clean plastic bag with the corner cut off) and put the dough in the form of 2 cm thick and 6-8 cm long strips into the hot oil. The cooked churros should be browned and not raw inside.
Place the churros on paper towels. Mix the sugar and cinnamon in a bowl and coat the churros in this mixture.
Disneyland serves churros with chocolate sauce, but you can do without it.
Also Like
Comments for "Churro Recipe Disney"