Best Churro Recipe (with Lemon Cream)
by Editorial Staff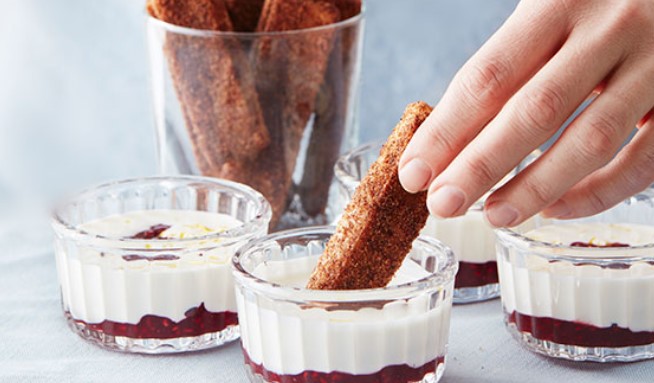 Churro is a Spanish pastry that tastes like donuts. Churros are quick and easy to cook. Serve them with fresh lemon cream.
Cook: 1 hr
Servings: 6
Ingredients
Raspberry jelly:
Raspberries – 200 g
Jelly sugar – 200 g
Lemon cream:
Sour cream – 300 ml
Fresh cheese – 200 ml
Powdered sugar – 4.5 tablespoon.
Lemon juice – 0.5 lemon
Churros:
Toasted bread – 5 slices
Melted butter – 100 g
Light sugar – 95 g
Cinnamon – 3 teaspoon.
For the decoration:
Directions
Set the oven temperature – 175°C.
Sprinkle the raspberries with jelly sugar and bring them to a boil. Cool them down and put them into the fridge.
Mix all the components of the lemon cream thoroughly and put it into the fridge.
Roll the slices of toasted bread thinly and cut off the crust. Cut each slice into 4 pieces and grease each piece with butter on both sides. Bake them in the oven for about 15-20 minutes.
Mix sugar and cinnamon. Take the churros out of the oven, coat them in the cinnamon-sugar mixture, and cool them down.
Prepare the dessert glasses to serve. Put some raspberry jelly into each, then put the lemon cream, and sprinkle it with fresh raspberries and grated lemon zest. Serve it with the churro sticks.
Enjoy your meal!
Also Like
Comments for "Best Churro Recipe (with Lemon Cream)"