Homemade Churro Recipe
by Editorial Staff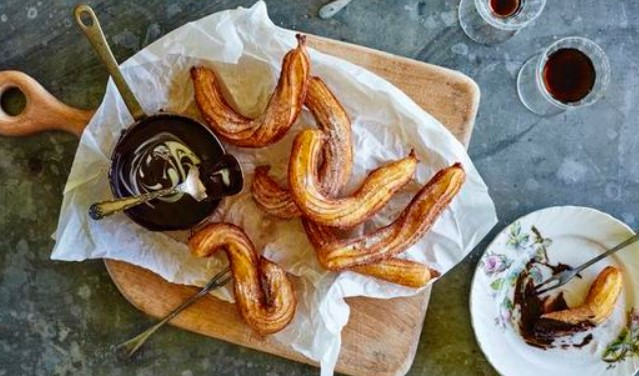 A detailed recipe for homemade churros.
Cook: 1 hr
Servings: 35-40
Ingredients
Butter – 1/2 tablespoon.
Water -1 tablespoon.
Salt – 1/4 teaspoon.
Limes (zest) – 2 pcs.
Whole wheat flour -1 tablespoon.
Eggs – 3 pcs.
Vegetable oil for frying
Sugar – 1/2 tablespoon.
Cinnamon – 2 teaspoon.
Directions
Melt the butter with the water, salt, and zest of 1 lime in a large saucepan over medium heat.
Bring the mixture to a gentle boil, then add the flour slowly. Remove the mass from the heat and continue mixing until the mixture turns out into a ball and stops sticking to the edges of the saucepan.
Add the eggs slowly one by one.
Put the dough into a piping bag with a large star tip and place it into the fridge for 15 minutes.
Pour 2/3 of the vegetable oil into a large saucepan and heat it up to 180°C.
Take the dough out of the fridge and slowly squeeze out long strips (8 cm long) of the dough into the oil.
Brown them in batches for 5-6 minutes flipping over in the middle of cooking.
Place the churros on a paper towel to absorb the excess fat.
Put sugar, cinnamon, and the remaining zest into a paper bag. When the churros cool down a bit, place them into the bag and, stirring and shaking it, cover them with the cinnamon-sugar mixture. Serve them warm.
Also Like
Comments for "Homemade Churro Recipe"